Adare Manor named 2018 IGTOA Golf Resort of the Year
Adare Manor was named IGTOA 2018 Golf Resort of the Year at the 2018 Gala Irish Golf Awards.
Held at Galgorm Castle Resort and Spa in conjunction with the 21st National Golf Tourism Conference, the awards are designed to recognise the creme de la creme of Irish golf tourism.
"The IGTOA Irish Golf Awards are a highlight of the Irish golf tourism calendar, and we are thrilled to be recognised as 'The Golf Resort of the Year' by experts in the industry," Adare Manor CEO, Colm Hannon said yesterday.
"Achieving this award is a testament to the entire team here who are fully committed to providing a first-class service to all of our guests. Our goal is to offer a complete golf experience for every guest, that will leave them with long lasting memories and a desire to return again."
Royal Portrush's secretary-manager Wilma Erskine was the recipient of the Jerry Donworth Outstanding Contribution to Golf award, Portmarnock Golf Club's Brian Hurley was named Golf Manager of the Year while Balliffin Golf Club's stunning Glashedy Links, which brilliantly hosted the 2018 Dubai Duty Free Irish Open, won Links Golf Course of the Year.
Portmarnock Hotel & Golf Links in Dublin was named the IGTOA Best Customer Experience "Property" award winner as Executive Helicopters in Galway took the "Best Service Provider" award.
Spectacular Carne Golf Links in Co Mayo was considered the top golf course in the "Best Customer Experience" category while the IGTOA 2018 Large Golf Hotel of the Year award went to the Great Southern in Co. Kerry.
Craignamara, situated just outside 2019 Open Championship venue Portrush, was named Boutique Golf Hotel of the Year while Dromoland Golf Club in Co. Clare was considered Parkland Golf Course of the Year.
21st National Golf Tourism Conference & 2018 Gala Irish Golf Awards, Galgorm Spa & Golf Resort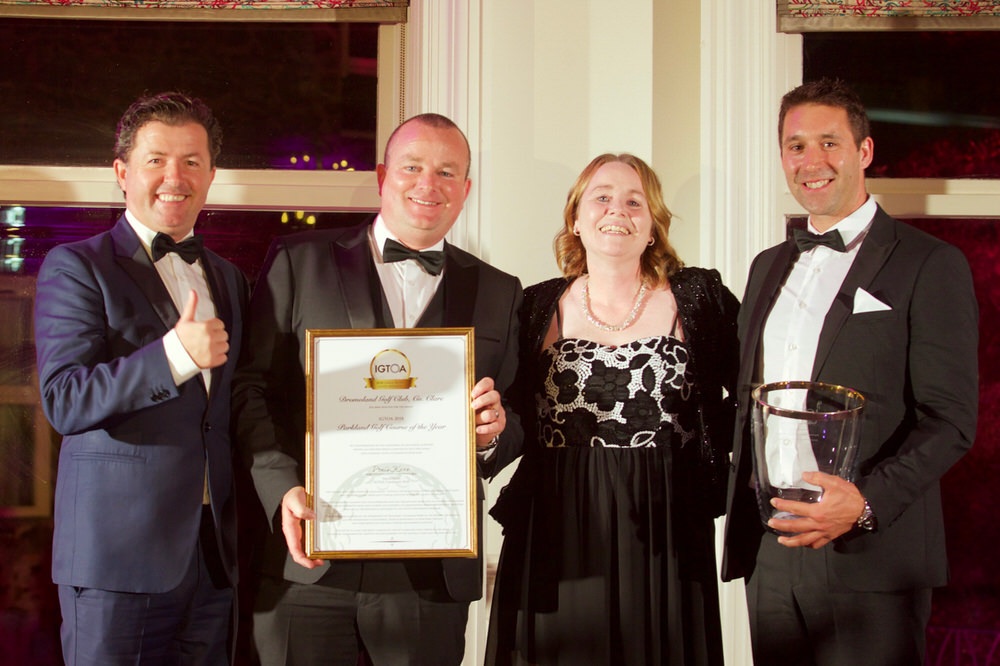 IGTOA 2018 Best Customer Experience – Property
Portmarnock Hotel & Golf Links, Dublin
IGTOA 2018 Best Customer Experience – Service Provider
Executive Helicopters, Galway
IGTOA 2018 Best Customer Experience – Golf Course
Carne Golf Links
IGTOA 2018 Large Golf Hotel of the Year
Great Southern Hotel, Co. Kerry
IGTOA 2018 Boutique Golf Hotel of the Year
Craignamara, Portrush
IGTOA 2018 Links Golf Course of the Year
Ballyliffin, Glashedy, Co. Donegal
IGTOA 2018 Parkland Golf Course of the Year
Dromoland Golf Club, Co. Clare
IGTOA 2018 Golf Resort of the Year
Adare Manor Golf Club, Co. Limerick
IGTOA 2018 Golf Manager of the Year
Mr Brian Hurley, Portmarnock Golf Club
IGTOA 2018 Jerry Donworth Outstanding Contribution to Golf
Wilma Erskine, Secretary Manager at Royal Portrush Golf Club
Brian Keogh