Big game in Tralee; McInerney and Haugh hunting Lyons
Overnight Pat Lyons fired a second round 75 but saw his lead cut to one shot over Castletroy's Eamonn Haugh and Lahinch's Declan McInerney entering the final round of the Irish Seniors Amateur Close at Tralee.
He heads the field on five over par and faces a tough task on Friday after Mcinnerney shot a best of the day 73 and Haugh a fine 74.
Royal Portrush's Mark McMurray also carded a 73 to share fourth spot with Portmarnock's David Conway (74), though they were four shots off the pace on nine over.
Tom Cleary heads the 60-64 leaderboard alongside Dermot Morris and Barry O'Leary while Maurice Kelly is the best at 65-69 brigade and the evergreen Barry Reddan is the top dog over 70.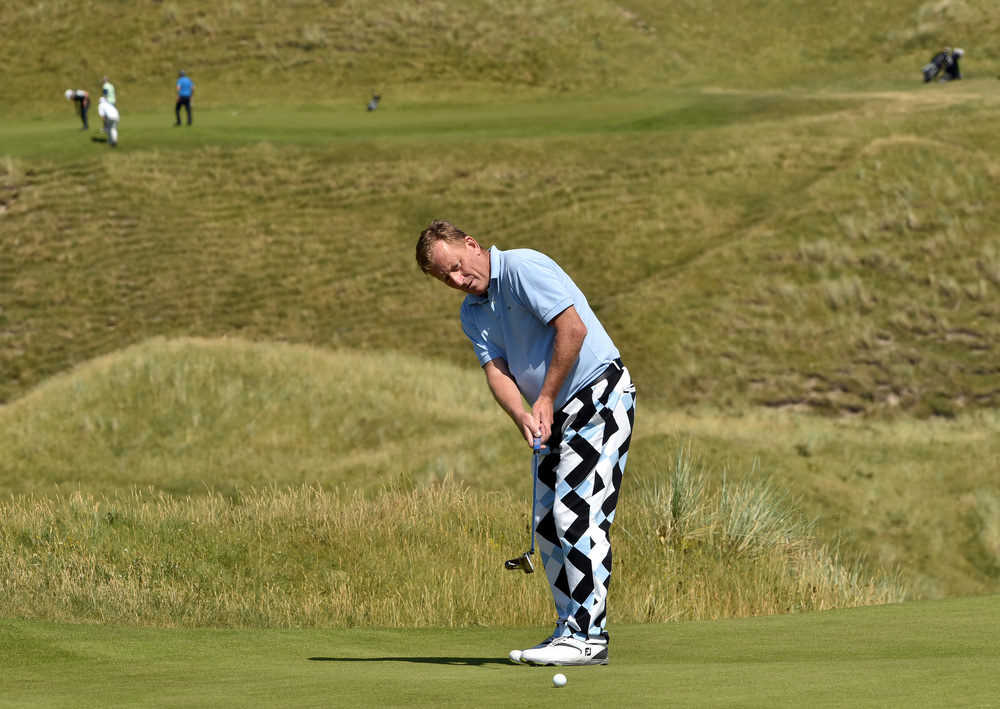 Irish Seniors Amateur Close Championship, Tralee GC (Par 72)
149 Pat Lyons (Cork) 74 75
150 Declan McInerney (Lahinch) 77 73, Eamonn Haugh (Castletroy) 76 74
153 Mark McMurray (Royal Portrush) 80 73, David Conway (Portmarnock) 79 74
154 David Mulholland (Castlerock) 78 76
155 Donal O'Donovan (Bandon) 77 78, Maurice Kelly (Naas) 77 78, John O'Brien (Castlemartyr) 77 78, Frank Flynn (Laytown & Bettystown) 76 79
156 Gerard Maher (Castletroy) 81 75, Jim Carvill (Banbridge) 80 76, Hugh Smyth (Mourne) 77 79, Gerard O'Sullivan (Tralee) 77 79
157 Tom Cleary (Cork) 81 76, Karl Bornemann (Douglas) 80 77, Alan Moran (Tuam) 80 77, Billy Donlon (Birr) 79 78, Dermot Morris (Limerick) 79 78, Barry O'Leary (Greystones) 78 79
158 Adrian Morrow (Portmarnock) 81 77, Liam Halpin (Westport) 81 77, Hugh O'Leary (Muskerry) 80 78, Michael Coote (Tralee) 79 79
159 Tony McClements (Holywood) 85 74, David Walpole (Milltown) 81 78, Arthur Pierse (Tipperary) 79 80
160 Mick Ahern (Skerries) 84 76, John Mitchell (Tramore) 82 78, Patrick Madigan (Waterford Castle) 78 82
161 Juan Fitzgerald (Limerick) 81 80
162 Val Smyth (Co. Louth) 85 77, John L Hughes (Woodbrook) 84 78, Pat Bevins (Carlow) 83 79, Nigel Duke (Killiney) 83 79, Peter Rogers (Dundalk) 81 81 , Jerry Crean (Kinsale) 81 81 , Colm McIlroy (Holywood) 80 82 , John Williams (Castle) 78 84 Ernest Heywood (City of Derry) 77 85
164 Brian Fives (Waterford Castle) 85 79, Barry V. Reddan (Co. Louth) 81 83
165 Randal Cross (Enniscrone) 88 77, Hugh Donnelly (Lisheen Springs) 88 77, Jim McVeigh (Carlow) 87 78, Eddie Power (Kilkenny) 85 80, Francis Reynolds (Tramore) 84 81
166 Des Egan (Loughrea) 86 80, Stuart Carter (The Heritage) 85 81, Richard Brooker (Skerries) 83 83, Tony Hayes (Co. Louth) 83 83, Paul Murphy (Killarney) 82 84, Martin Scott (Hollystown) 82 84, Keith Lapsley (Dunfanaghy) 81 85, Michael Quirke (Doneraile) 78 88
167 John M Power (Portmarnock) 86 81, Jack Dempsey (Royal Curragh) 86 81, Peter Cowley (Cork) 86 81, John Hutchinson (The Royal Dublin) 84 83, Noel McGrane (The Royal Dublin) 81 86, Tom Tyrrell (The Heath) 81 86
168 Philip Clifford (Limerick) 86 82, Denis Deasy (Waterford) 84 84
169 Noel Mannion (Dun Laoghaire) 90 79, Seamus Doherty (Ballyliffin) 81 88
170 John Field (Tulfarris) 89 81, Neil Kilgallon (European) 84 86, Peter Cooley (Portstewart) 81 89
171 Martin Daly (Monkstown) 86 85
172 John Waters (Ireland) 87 85
173 Kieran Lawlor (Beaverstown) 92 81
174 Seamus Ward (Laytown & Bettystown) 87 87, Ian Smyth (Clandeboye) 86 88
175 Rory Timlin (Galway) 83 92
176 Michael F Galvin (Limerick) 93 83, Alan Lilley (Ballyclare) 91 85, Hugh MacKeown (Portmarnock) 89 87, Michael Byrne (England) 89 87, John Cuffe (Monkstown) 88 88, Michael Eaton (Holywood) 88 88
178 Patrick J Murphy (Cork) 93 85, Kevin Leacy (Killarney) 85 93
179 Niall Crimmins (Co. Louth) 93 86
180 Rory Fitzgerald (Waterford Castle) 95 85, Brian Bolger (Portmarnock) 94 86, Noel Patterson (Milltown) 89 91, Michael Kirby (Grange) 86 94
182 Martin Higgins (Claremorris) 93 89
185 John O'Sullivan (Fota Island) 97 88
186 Gordon Hutchinson (Royal Belfast) 102 84
NR Michael Darcy (Oughterard) 84 NR, Turlough Considine (Clontarf) NR 84, John Garvey (Seapoint) NR 79, Clem Walshe (Dundalk) 87 NR, Kevin Knightly (The Royal Dublin) 87 NR, Paul Reilly (Co. Louth) 85 NR, Patrick Griffin (Dooks) 86 NR, Barry Hobson (Malone) 83 DQ, John Houlihan (Dooks) NR W
Brian Keogh