Morrow and Smyth in leading quartet at Ardee
Adrian Morrow is gunning for a record fourth Irish Seniors Open after a one over 72 gave the Portmarnock veteran a share of the first round led at Ardee.
The Portmarnock ace shares top spot with Mourne's Hugh Smyth and English pair Ian Crowther and Mark Stones.
A day that suited the early starters with virtually no wind at the mid-Louth venue, conditions were more challenging in the afternoon as a north-easterly wind strengthened for the late starters.
"One over par today, I'll take it," Morrow said. "I didn't play very well, really. I struggled on the back nine, I played better on the front nine."
Despite no player breaking par, Morrow was impressed with the condition of the course and the set-up.
"What's nice is, what the boys were saying in Royal Dublin [at the Flogas Irish Amateur Open], the GUI are now doing a really good job and putting pin placements where you can actually shoot a score, and that's great. You can hole a lot of putts out there"
Defending champion Richard Partridge is very much still in contention as the Englishman sits just three off the lead after a 75.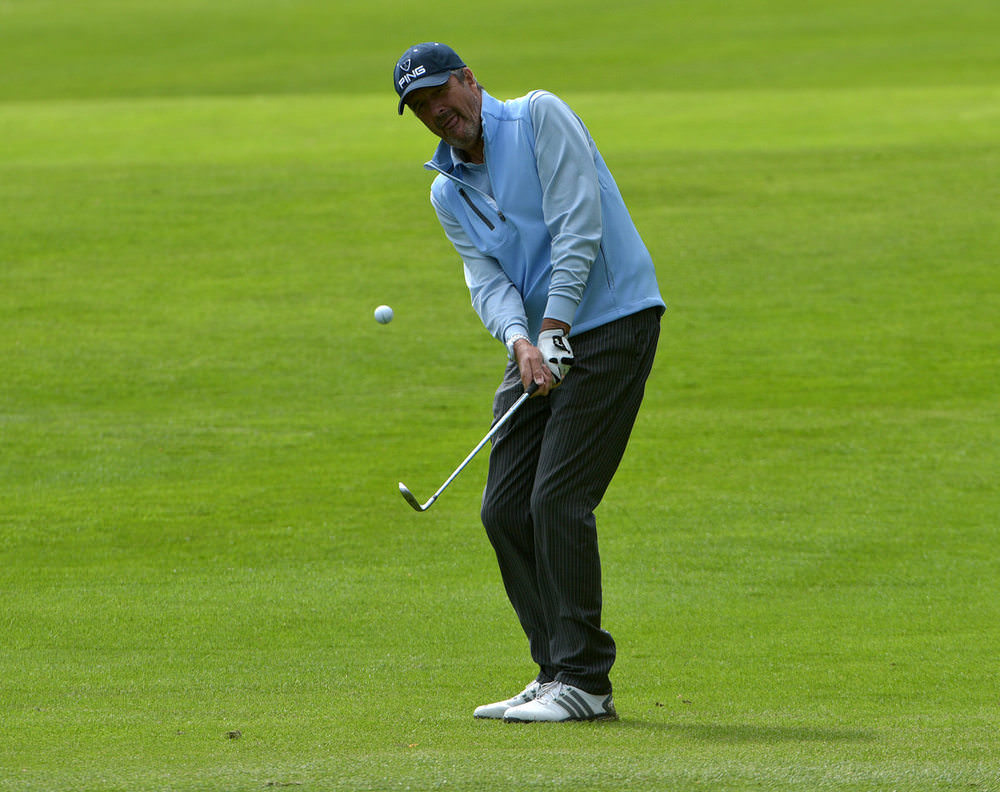 Irish Seniors Amateur Open, Ardee Golf Club (Par 71)
72 Hugh Smyth (Mourne), Ian Crowther (England), Mark Stones (England), Adrian Morrow (Portmarnock)
73 Gerard O'Sullivan (Tralee), Ian Attoe (England), Muir Townsley (Scotland), Andrew Atkinson (England)
74 Alan Egan (Royal Curragh), Andrew Carman (England), Andrew Williams (Wales), Tom Cleary (Cork), Colin Jones (Wales), John Ambridge (England), Nigel Evans (Wales)
75 Edward Rogers (Dundalk), Ross Galgut (England), John Mitchell (Tramore), Stephen East (England), Richard Partridge (England), Mike Ready (England)
76 Alan Mew (England), Maurice Kelly (Naas), Ronnie Berry (Rossmore), Richard McDowell (Royal Belfast), Keith Morris (England), Peter Rogers (Dundalk), Mervyn Eager (Lucan), Ian Brotherston (Scotland)
77 Tony Hayes (Co. Louth), Glyn Rees (Wales), Alan Lilley (Ballyclare), Neale Pitches (New Zealand), Ian Fraser (Scotland), Turlough Considine (Clontarf), Michael Quirke (Doneraile), Arthur Pierse (Tipperary Golf Club), Michael Coote (Tralee)
78 Mark Windebank (Portstewart), George Wilson (England), Barry O'Leary (Greystones), Nigel Duke (Killiney), George Rodaks (Scotland), Billy Donlon (Birr), Douglas Cameron (England), David Conway (England), Jimmy Mccarthy (Nuremore Golf Club), Mick Ahern (Skerries), David Cromie (Denham Golf Club), Stuart Pond (England), Martin Higgins (Claremorris)
79 Mick Gaynor (Co. Meath), Morgan Pierse (Grange), Raphael Smyth (Laytown & Bettystown), Kevin Sheehy (Athlone), George Mellerick (Fota Island), Oscar O'Herlihy (England), Richard Brooker (Skerries), Steven Bell (Gracehill Golf Club), Denis Deasy (Waterford)
80 Sean McGarry (Ballymena), Stuart Robson (England), Seamus Ward (Laytown & Bettystown), Liam Doran (Ardee), Richard Elmes (England), Bert Burke (Moate), Robert Fox (England), Clem Walshe (Dundalk), Alistair Campbell (Massereene), Joseph Mcwilliams (Naas), Con Boyce (Rosapenna), Tom Tyrrell (The Heath)
81 Tony Patterson (Scotland), David Brabazon (Balbriggan), Declan Corcoran (Thurles), Robert Head (England), Brian Bingham (Scotland), Dale Baker (Downpatrick), William Houng Lee (New Zealand), Michael Darcy (Oughterard), Stuart Black (Scotland)
82 Richard Cotter (Delgany), Rory Timlin (Galway), Ashley Brewer (England), Val Smyth (Co. Louth), Brian Whitaker (Elm Park), Dave Roberts (Rathcore)
83 Tom Byrne (Greystones), Tom Kendellen (Rush), Hugh MacKeown (Portmarnock), Liam Halpin (Westport), Ian Jeen (Scotland), Greg Kocher (Canada), Tim Whittaker (England), Noel Mannion (Dun Laoghaire), Brendan O'Malley (The Royal Dublin)
84 Adrian Wynne (Strandhill), James Johnston (Scotland), Alistair Smith (Blainroe), Gary Catt (England), David Mears (Costa Rica), Seamus Doherty (Ballyliffin), Liam MacNamara (Rosslare), Michael Jones (England)
85 Noel Patterson (Milltown), Declan Kenny (Ardee), Philip Graham (England)
86 Pat Rooney (Laytown & Bettystown), Sean Hosty (Galway), Peter Cowley (Cork)
87 Jack Maguire (Co. Louth), Eamon Breen (Ardee), Michael O Brien (Co. Louth), Niall Crimmins (Co. Louth)
88 Dermot Morris (Limerick Golf Club), Rory Fitzgerald (Tramore)
89 John Mullen (Co. Louth)
94 Paul Hautz (Delgany)
95 G. A. Finn (Cork)
NR Jack Dempsey (Royal Curragh)
Brian Keogh