Diamond one clear in Irish Amateur
The Island's Gavin Moynihan is just a shot off the lead with two rounds of play. Picture by Pat Cashman. Belvoir Park's Harry Diamond can get one over on best pal and world No 1 Rory McIlroy if he wins the Irish Amateur Open at Royal Dublin on Sunday.
The 27-year old reigning West of Ireland champion carded five birdies in a joint best of the day 70 to take a one stoke lead into the final 36 holes of a tournament that McIlroy never managed to win.
"If only I could keep up with Rory," Diamond beamed after finishing with a birdie from 15 feet at the last. "I don't think he even knows this is on because he hasn't been in touch.
"I'm just playing a lot more this year and I'm starting to play okay so hopefully I can keep it together tomorrow.
"I don't know the course that well. I've only ever played the Close here and never played the Irish Amateur since it moved from Carton House in 2005. But I like it and the greens are good so I will just try to take it one shot at a time."
McIlroy won't be turning up to caddie for Diamond after missing the cut in the Players Championship. He's in Rome with girlfried Caroline Wozniacki, who plays in next week's Internazionali BNL d'Italia.
Diamond leads by a shot on one-under par 143 from The Island's Gavin Moynihan (70), American Mike Miller (73) and Dutchmen Daan Huizing (70) and Robin Kind (71) on another blustery day at the Bull Island links.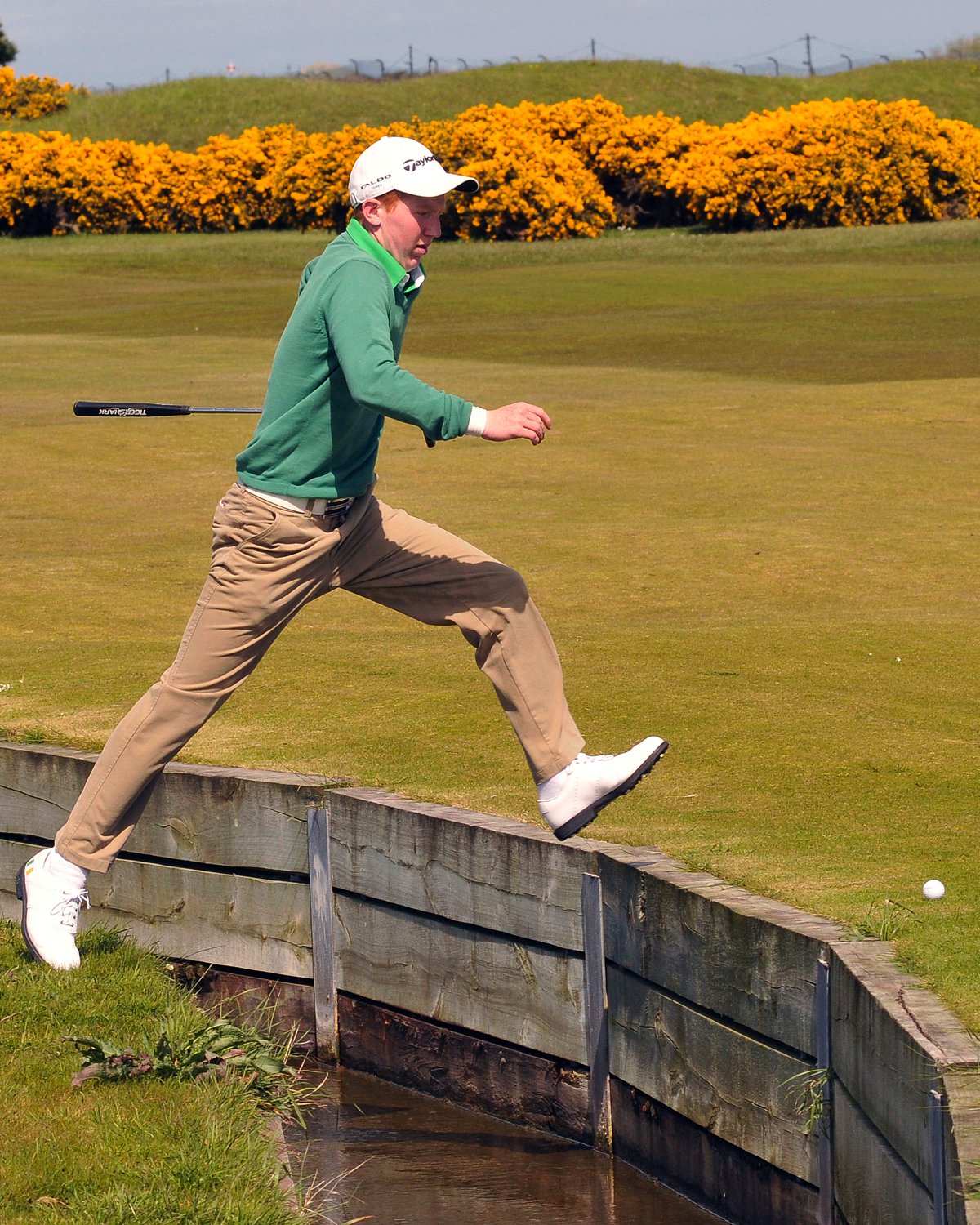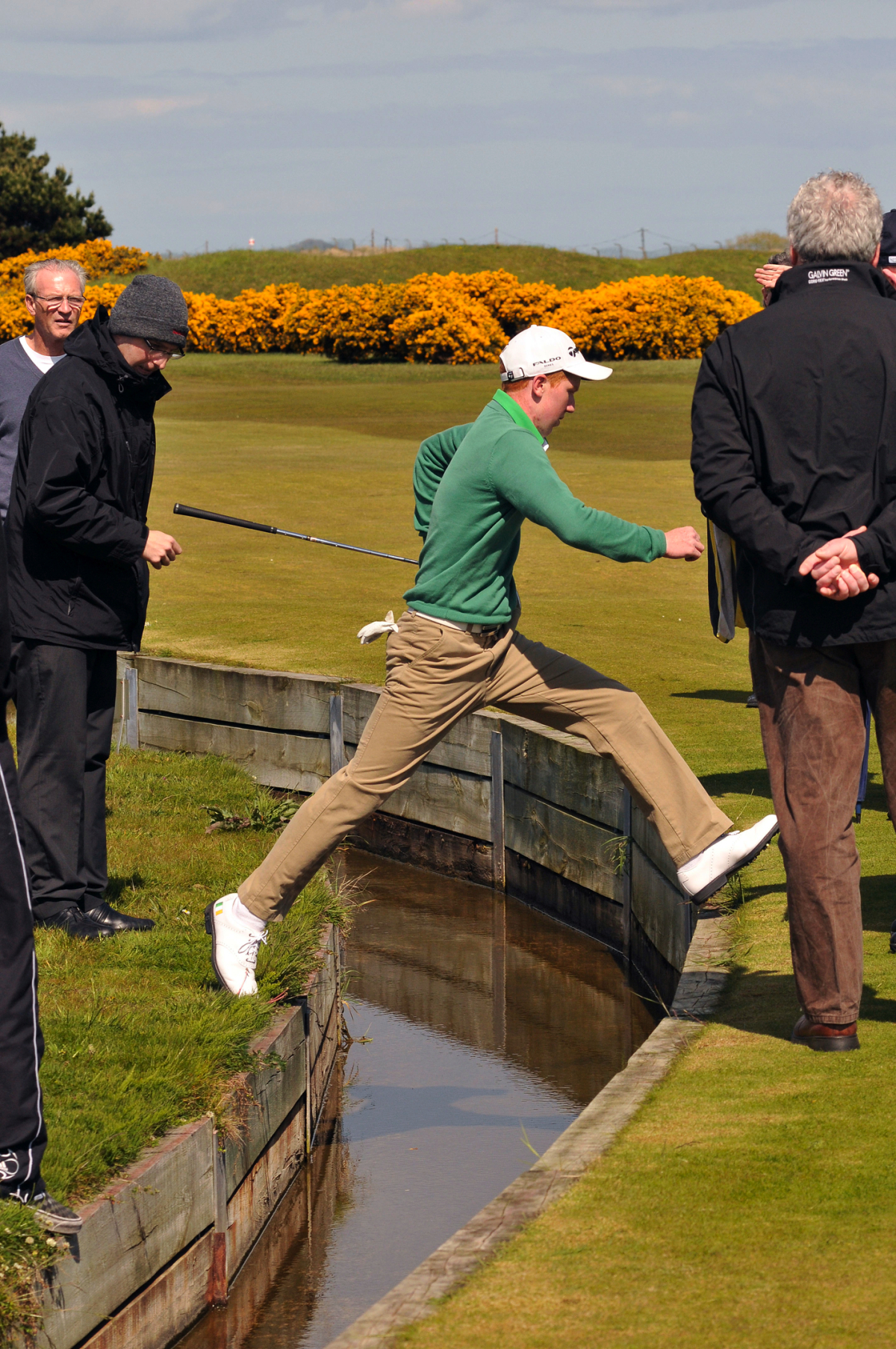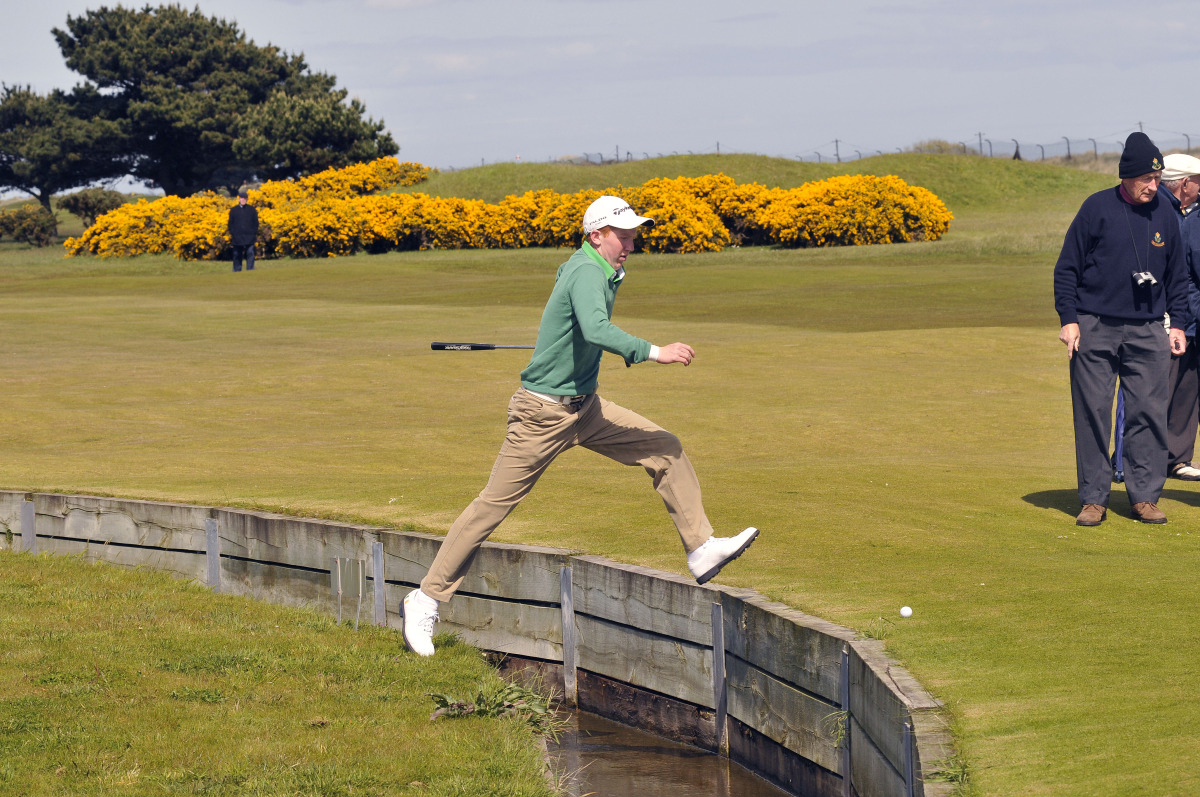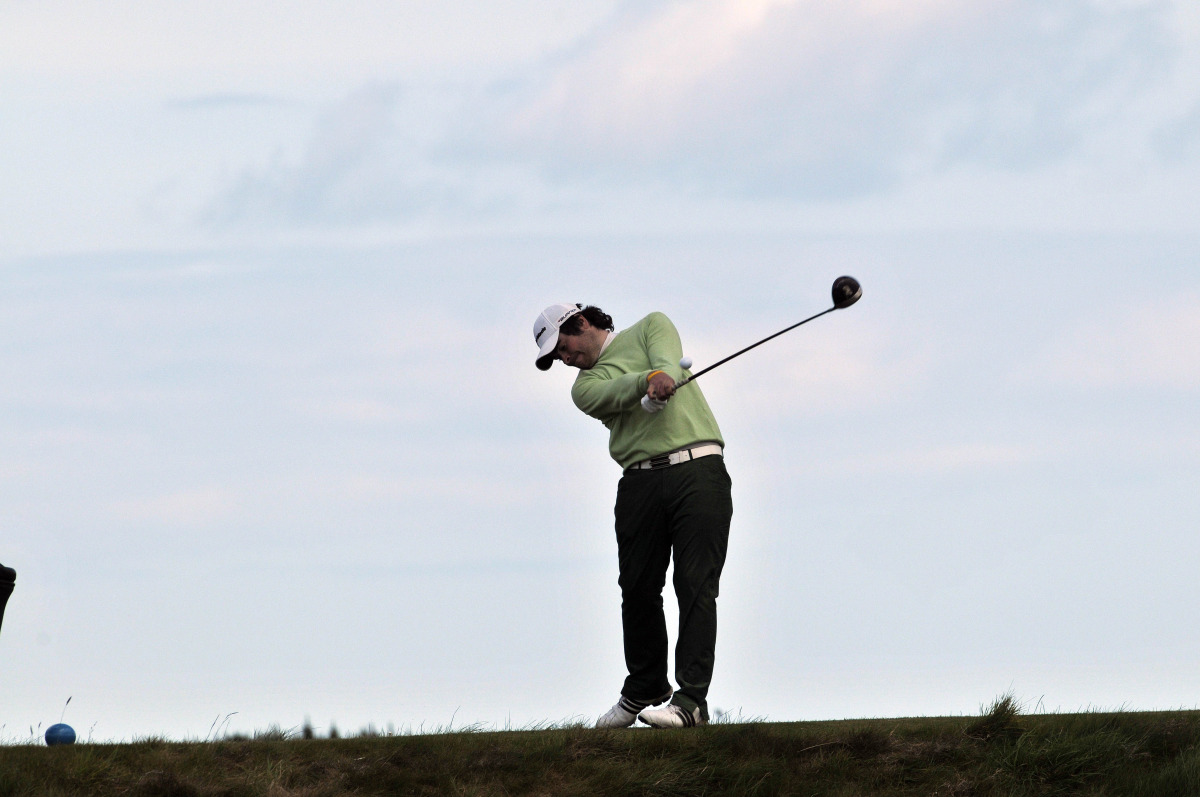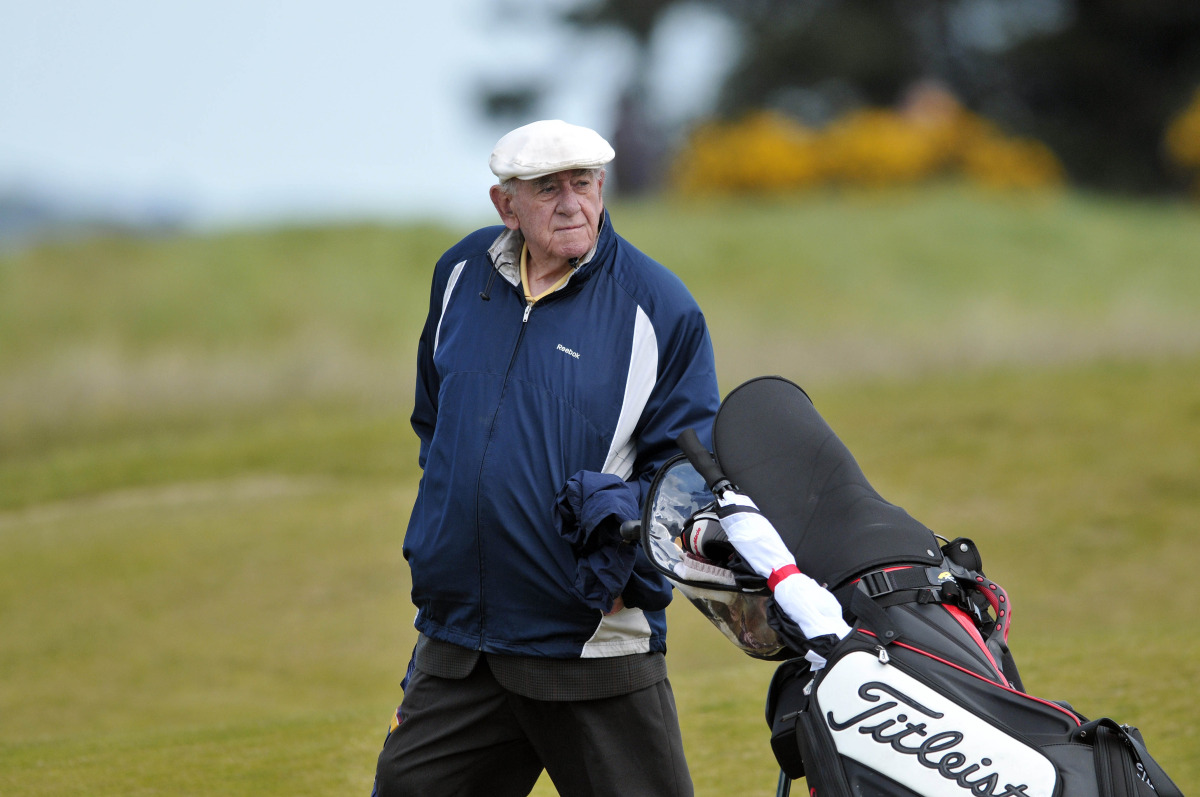 McIlroy won back to back West of Ireland and Irish Close titles but lost the 2006 Irish Amateur Open at Portmarnock after a play-off with Finn Antti Ahokas.
Diamond occasionally uses McIlroy's state of the art practice facility in Moneyreagh to keep his game sharp and he's shown form this year, winning the West of Ireland title at Easter.
Warrenpoint's Colm Campbell (71), Ballymena's Dermot McElroy (74) and Banbridge's Conor Doran (72) are just two shots off the lead in a share of sixth with the reigning European Amateur champion, Austria's Manuel Trappel (72), and Co Louth's Simon Ward.
Seventeen year old Moynihan, who joined Ryder Cup stars Lee Westwood and Justin Rose on the impressive list of champions when he became the first Irish player to win the prestigious Peter McEvoy Trophy last month, fired a 70 to take the early clubhouse lead before being overhauled by Diamond in the penultimate game of the day.
And he did well in the end to limit the damage to a bogey five at the last. Three under par for his round after birdies at the first, second and fifth, he thinned his five-iron approach to the famous 18th and was fortunate to trickle into the stream that meanders along the out of bounds.
After a penalty drop, Moynihan two-putted from 80 feet, holing a 10 footer for a bogey five and insisted that he while he was happy to make the cut, he's confident he can put in a positive performance over the last two rounds
"My target at the start of the week was just to make the cut and obviously now I have got myself in a decent position," Moynihan said. " I've never won an Irish title so it would be pretty special to win here. I've been very consistent and if I can keep playing the way I've been playing I'll be up there with a chance."
World amateur No 7 Huizing will be one of the men to watch over the last two rounds following his runaway win in last week's Lytham Trophy. The 21-year old Dutchman finished a shot outside a play-off for the title last year when he bogeyed the 17th when leading by one and then ran up a triple bogey seven at the last when he aggressively fired at the pin but sent his three-iron approach out of bounds.
The cut fell at eight over par 152 with 45 players making it safely through to the final 36 holes.
Irish Amateur Open, Royal Dublin (Par 72)
After 36 Holes
143 H Diamond (Belvoir Park) 73 70
144 D Huizing (Netherlands) 74 70, G Moynihan (The Island) 74 70, R Kind (Netherlands) 73 71, M Miller (USA) 71 73
145 C Campbell (Warrenpoint) 74 71, M Trappel (Austria) 73 72, C Doran (Banbridge) 73 72, D McElroy (Ballymena) 71 74, S Ward (Co. Louth) 70 75
146 R McNamara (Headfort) 76 70, A Kearney (Castlerock) 76 70, J De Poyen (France) 75 71
147 E McCormack (Galway) 77 70, M Shanahan (Castlemartyr) 75 72, R Bridges (Stackstown) 75 72, J Evans (England) 74 73, T McLarnon (Massereene) 70 77
148 A Dunbar (Rathmore) 75 73, P Shields (Scotland) 74 74, K McDonagh (Athlone) 72 76
149 M McAlpin (Royal Portrush) 76 73
150 Q Carew (Edenderry) 77 73, E Arthurs (Forrest Little) 75 75, E Smith (Ardee) 75 75, G Lenehan (Portmarnock) 75 75, M Durcan (Co. Sligo) 75 75, R O'Donovan (Lucan) 74 76, R Whitson (Mourne) 74 76
151 J Greene (Portmarnock) 78 73, P O'Kane (Moyola Park) 77 74, J Carvill (Banbridge) 76 75, J White (Scotland) 74 77, R Burke (Castle) 74 77, S McConnell (Ballyclare) 73 78
152 B Casey (Headfort) 80 72, G McDermott (Co. Sligo) 78 74, C Selfridge (Moyola Park) 78 74, K McCarthy (Kinsale) 78 74, A Cooper (Australia) 78 74, G Bohill (Co. Louth) 78 74, B Walton (The Island) 77 75, T Grava (France) 76 76, M Sinclair (Knock) 76 76, A Hogan (Newlands) 76 76
Non-Qualifiers:
153 D Loftus (Castlebar) 80 73, S Moloney (Castletroy) 79 74, D Holland (Castle) 79 74, J Hume (Rathsallagh) 76 77, K Reints (Netherlands) 75 78, H Beins (Germany) 74 79
154 I O'Rourke (Cork) 80 74, J Fox (Portmarnock) 79 75, S O'Hara (Co. Sligo) 78 76, T Le Berre (France) 78 76, B McSweeney (Woodbrook) 78 76, J Pierse (Grange) 77 77, L Lespinasse (France) 77 77, C Fairweather (Knock) 76 78, S Binning (Scotland) 76 78, C McKenna (Mallow) 75 79, N Gorey (Muskerry) 75 79
155 G Lawlor (Newbridge) 80 75
156 S Borrowman (Scotland) 80 76, D Morgan (Mullingar) 80 76, S Larkin (Scotland) 80 76, A Thomas (Tramore) 79 77, M Brett (Portmarnock) 79 77, D Byrne (Athenry) 78 78, J Hassler (France) 78 78, A Kiernan (Forrest Little) 77 79, S Grehan (Tullamore) 76 80, A Kelly (Muskerry) 76 80, P Mazier (France) 76 80, S Ryan (The Royal Dublin) 75 81
157 J Marot (France) 85 72, M Wolf (Germany) 79 78, J Hendrick (Scotland) 78 79, S Bryan (Delgany) 77 80
158 M Robb (Scotland) 85 73, D Downie (Sutton) 84 74, J Carney (England) 82 76, D Coyle (Co. Louth) 81 77, C Morizio (France) 81 77, R Cannon (Balbriggan) 81 77, I Brennan (Greenore) 80 78, J Lyons (Birr) 80 78, J Hopkins (Skerries) 77 81
159 F Schulte (Germany) 82 77, R Knightly (The Royal Dublin) 81 78, C O'Neil (Scotland) 80 79, R Arnorsson (Iceland) 79 80, G Stevenson (Scotland) 78 81, G O'Flaherty (Cork) 77 82, G McGrane (The Royal Dublin) 73 86
160 S O'Connor (Skerries) 82 78, G Collins (Rosslare) 82 78, M Kippen (England) 81 79, D O'Donovan (Muskerry) 81 79, C Molloy (Ardee) 80 80, E Joris (France) 80 80
161 G Mungovan (Headfort) 78 83
162 S Walsh (Portmarnock) 87 75, S McGlynn (Carton House) 87 75, S Healy (Claremorris) 83 79, P McCrudden (Royal Portrush) 83 79, G Walsh (Mount Juliet) 80 82, K Ritchie (USA) 79 83, R Connolly (Rathsallagh) 78 84
163 M Buggy (Castlecomer) 82 81, M Hausweiler (Germany) 81 82
164 G McKenna (Fortwilliam) 83 81, B Daly (Edmondstown) 82 82
167 N Steedman (Courtown) 84 83, K Egan (Carton House) 80 87
168 N Tacher (France) 83 85
188 A Bogoni (Italy) 92 96
NR S Moran (Carton House) 84 NR
WTD W Hanna (Kilkeel) 81 WTD, S Flanagan (Co. Sligo) 88 WTD
Today's tee times (Rounds 3/4)
06:42/11:42 Andrew Hogan (Newlands) Michael Sinclair (Knock), Thomas Grava (France)
06:51/11:51: Brendan Walton (The Island) Gareth Bohill (Co. Louth), Andrew Cooper (Australia)
07:00/12:00: Kieran McCarthy (Kinsale) Chris Selfridge (Moyola Park), Gary McDermott (Co. Sligo)
07:09/12:09: Brian Casey (Headfort) Simon McConnell (Ballyclare), Ronan Burke (Castle)
07:18/12:18: James White (Scotland) Jim Carvill (Banbridge), Paul O'Kane (Moyola Park)
07:27/12:27: John Greene (Portmarnock) Reeve Whitson (Mourne), Richard O'Donovan (Lucan)
07:36/12:36: Michael Durcan (Co. Sligo) Geoff Lenehan (Portmarnock), Eugene Smith (Ardee)
07:45/12:45: Eoin Arthurs (Forrest Little) Quentin Carew (Edenderry), Matthew McAlpin (Ryl Portrush)
07:54/12:54: Kelan McDonagh (Athlone) Paul Shields (Scotland), Alan Dunbar (Rathmore)
08:03/13:03: Tiarnan McLarnon (M'reene) Josh Evans (England), Richard Bridges (Stackstown)
08:12/13:12: Mark Shanahan (Castlemartyr) Eddie McCormack (Galway), Julien De Poyen (France)
08:21/13:21: Aaron Kearney (Castlerock) Rory McNamara (Headfort), Simon Ward (Co. Louth)
08:30/13:30: Dermot McElroy (Ballymena) Connor Doran (Banbridge), Manuel Trappel (Austria)
08:39/13:39: Colm Campbell (Warrenpoint) Mike Miller (USA), Robin Kind (Netherlands)
08:48/13:48: Gavin Moynihan (The Island) Daan Huizing (Netherlands), Harry Diamond (Belvoir Park)