Portmarnock hook the big one
Michael Brett is not a man given to stress and friction, but as non-playing captain of the Portmarnock team that dramatically won its 20th AIG Senior Cup at Thurles on Sunday, this was as fraught as it gets.
"Torture," he said with a grin as wide as the Golden Vale after Portmarnock beat Royal Portrush 4-1 in a final they looked to have under complete control after two early wins before the Ulster champions woke up and it required a gutsy 19th hole birdie from Geoff Lenehan to avoid an even more torturous finale.
Portmarnock had been waiting seven years to follow up on their 2011 win at Castlerock when Lenehan was again the man to get the winning point and later joined Brett and James Fox at the European Men's Club Trophy in Turkey.
It was there that Brett picked up the sobriquet "The Salmon", not for his pink flesh but his impressive ability to negotiate the hotel waterslide his companions had earlier struggled to squeak down.
Fox and Lenehan looked on and prepared to console Brett about the slide's obvious defects, its lack of viscosity and other technical shortcomings. But Brett swished effortlessly down the chute before making a sleek, ripple-free entry.
In such moments are bonds formed, and while Portmarnock's latest win in the blue riband scratch singles event looked as smooth as one of Brett's salmon-like slides, this was as hard-fought a victory as you could imagine.
It was little wonder that Portmarnock's band of brothers celebrated so effusively at a tree-lined Tipperary track where they were crowned deserved champions after a high-quality final.
They say you should never meet your heroes, but Lenehan produced two moments of magic to beat one of his to decide the tie.
The 30-year old restauranteur was the match winner for Portmarnock in their 19th win at Castlerock seven years ago and Munster's hero in the Interprovincial Matches for the second time in his career earlier this summer.
He has a knack of getting the job done under the cosh, and he proved to be the talisman again on Sunday, producing a miraculous chip-in to halve the 17th and a winning birdie at the 19th to beat former Walker Cup player Paul Cutler (29) and seal a nail-biting 4-1 win.
"You are just trying to keep applying the pressure," he said of his chip in at the 17th. "We had [former Walker Cup and European Tour player] John McHenry with us with Munster this year, and he kept saying just keep moving forward, apply pressure, apply pressure, you never know. You get lucky sometimes."
The Dublin club was up in all five matches early on and looked to be cruising to victory when international Conor Purcell clinched to a 5&4 win over Richard McCrudden and Stephen Walsh, a caddie for Lenehan seven years ago, made seven birdies in an impressive 4&2 win over Andrew Morris.
But Royal Portrush refused to go down without a fight, and it took some late heroics from Lenehan to seal the deal against Cutler at the first extra hole, where he made an eagle three on Saturday to clinch a 3.5-1.5 semi-final win over holders Galway.
All square in a match he'd led 2-up at the turn, he was stymied in the trees left of the 17th and had a fresh air with his first attempt to escape before moving his third just a few yards into the clear.
Cutler was 20 yards further ahead in the left rough, but Lenehan rifled a four-iron through the green onto the 18th tee box with his fourth.
If Cutler hit the green, you sensed that he would tell Cutler to pick up and walk to the next tee one down. But after watching Cutler tug his approach into the left rough, he chipped in for an unlikely bogey five.
It was such a shock that Cutler semi-fluffed his first chip and then knocked his fourth shot eight feet past the pin.
What looked like a certain win was now looking like a shock lost hole, but he held his nerve to rap in the putt and halve the hole in five.
The former West of Ireland, Irish Close, East of Ireland and Lytham Trophy winner, who was reinstated as an amateur three years ago after a brief professional career, then made a crucial error on the par-five18th.
After two majestic strikes left him a 15-foot eagle putt for the match, he watched Lenehan knock his slick, long-range putt from the front edge close to 10 feet past but then totally misread his putt and left himself a five-footer coming back.
Lenehan missed his birdie putt but Cutler failed to make his four, and extra holes were required.
With James Fox level with Matt McAlpin playing the 18th and Darragh Coghlan pegged back all square by Mark McMurray in the match behind having led 3-up at the turn, Lenehan knew he had to end the match there and then.
Seizing the day, he drilled a 240-yard hybrid to the front edge of the 507-yard, par-five first and after Cutler had failed to get his pitch to the top tier, Lenehan lagged a 35 footer to within two and a half feet short of the hole.
Cutler agonisingly came up short with his birdie try from 15 feet, and Lenehan calmly stroked in the winning putt to give Portmarnock a match-clinching third win as the other two matches were immediately declared halved.
Thrilled to beat a player he's admired for years, he said: "It was a very tough match, and he is an amazing player. You can really see it at times. He holes great putts under pressure, and he's a class act.
"He was a hero of mine growing up, even if he is younger than me, in golfing terms he was the superstar for me."
Brett, who won the blue riband event twice as a player, described his watching brief as "torture."
His nervousness was summed up by Lenehan, who explained how much the event means to Portmarnock, which will host the Amateur Championship to mark the club's 125th birthday next year.
"We wanted to win again," he said. "We haven't quite performed as well as we'd like to, so there was a bit more to it this year to get it done. We've put a lot of pressure on ourselves over the years, maybe that was detrimental to us.
"Leinster was tough without Conor Purcell. Having him is like having a point in the bag, so getting through Leinster, we played some tough teams.
"Old Conna in the quarters was our toughest game and Enniscorthy, and Dun Laoghaire were tough too. But our team spirit is good; we're pulling hard for each other."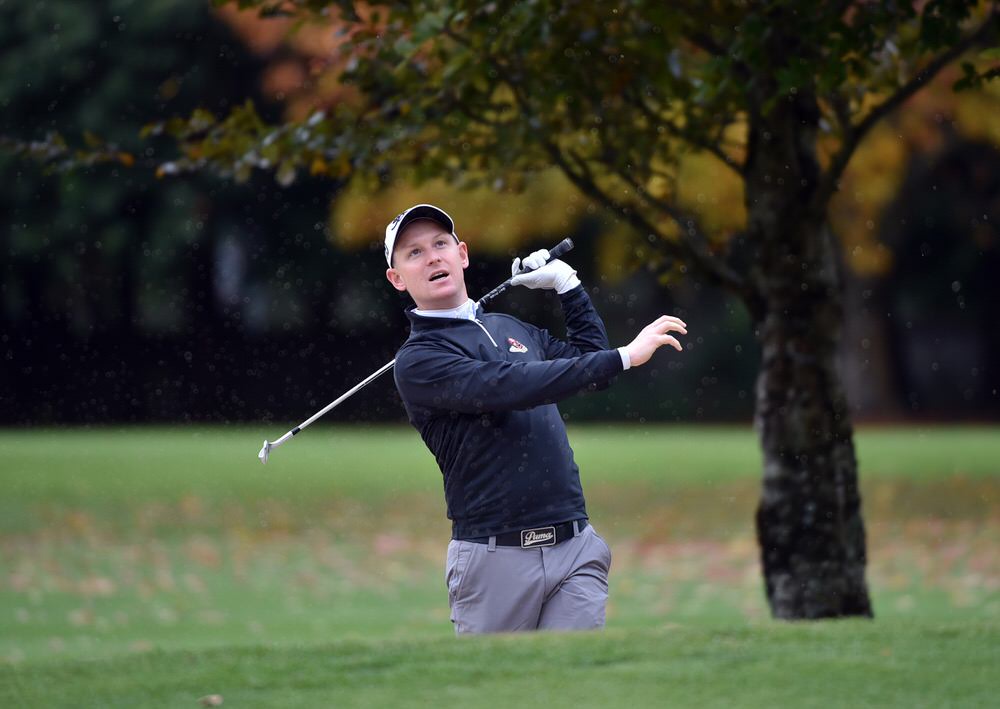 Purcell (21) was a major asset, and he now heads to Australia for winter practice before making his bid for Walker Cup selection next year.
"When you see a couple of matches going from coupe up to all square you are hoping it doesn't turn against us," he said of that late rally by Royal Portrush. "But great playing from Geoff down 19."
As for his plan, he said: "I'm off down to Australia tomorrow, and while I'm not sure of what tournaments I'll play this side of Christmas, I have two or three scheduled for the New Year.
"I'll do a bit of practice in good weather, and while the Walker Cup is a long way away, we'll build this winter and see where we can get."
Brett had a strong panel with his starting five of Purcell, Lenehan, Fox, Coghlan and Walsh complemented by Shane McGlynn and John Greene throughout the campaign.
He admitted he was relieved to get them over the line in his third and final years as Senior Cup captain and dreams now of playing again.
"It looked so comfortable for a while," he said of Sunday's dramatic finale. "I couldn't believe the start we got today. Conor seemed to have his ball under control the whole way around, and Stephen was making birdies every second hole.
"Then we knew Geoff was in a tight game and he said to me just walking up to the tee that he was incredibly nervous. More than normal he said. I just said go and do what you did yesterday.
"So yes, there was a wobble, and it got incredibly tight at the end but they are a great bunch of guys, and they do fight for each other hard. They are good mates.
"I didn't see 17. We were on 16. But it was just amazing to see him on 19 and perform again. Six quality shots over the last couple of days on 19. It's incredible.
"We had to be at the top of our game in the Leinster finals in Mount Juliet. We didn't have Conor, but we have strength in depth, and thankfully we had a really competitive five. You could put the guys out in any position, and they are going to be very difficult to beat.
"Old Conna were tough, Enniscorthy too and then Dun Laoghaire. But there is fight in this team, and I hope they go on to be competitive for the next couple of years."
Royal Portrush were sent some good luck messages from members of the US Ryder Cup team, including Tiger Woods, courtesy of Ricky Elliott.
But their playing captain Matt McAlpin was proud of his troops, and after losing to Galway in the semi-finals last year and to Portmarnock in Sunday's final, he's hoping they can go one better in 2019 when the club hosts The Open Championship.
"We gave it a really good fight," said McAlpin. "It looked like we were dead and buried on the front nine but I got my match back to square, and Mark was about to go one up. But Portmarnock are a great team, and the match was played in a great spirit. I just want to wish them all the best. They were the better team today.
"We will give it another go next year. We have a bronze and a silver, so we will have another go for the gold next year."
AIG Senior Cup Final
Royal Portrush 1 Portmarnock 4
Paul Cutler lost to Geoff Lenehan 19th;
Andrew Morris lost to Stephen Walsh 4&2;
Matthew McAlpin halved with James Fox;
Richard McCrudden lost to Conor Purcell 5&4;
Mark McMurray halved with Darragh Coghlan
Brian Keogh