Campbell leads by two as Penge cruises to course record 64
It's not often a player shoots a pair of impressive 68s to lead at Royal Dublin and ends up overshadowed by a player two shots behind him.
But Warrenpoint's Colm Campbell was happy enough to head the Flogas Irish Amateur Open by two shots on eight under par and take his hat off to 17-year old England international Marco Penge, who clipped a shot off Gavin Moynihan's year old course record by going around the old lady of Dollymount in an immaculate, eight under par 64.
As the wind switched overnight from south to north but never gusted above 20 mph, the elegant Golf at Goodwood player seriously impressed watching Great Britain and Ireland captain Craig Watson and selector Michael Burns as he pencilled in two eagles and four birdies on a blemish free card.
The winner of back to back Fairhaven Trophies for under 18s in 2013 and '14, Penge took a major step forward last year by winning the Peter McEvoy Trophy and the Scottish Amateur Championship.
He's considered one of the leading contenders for next year's Walker Cup side to face the US at Los Angeles Country Club. But so keen is he to try his hand at the European Tour Qualifying School in the autumn, he's unsure exactly what he will be doing in 16 months' time.
Even his putting grip can change from one day to the next, as he proved yesterday by abandoning the cack-handed method that yielded an opening 74 and returning to the conventional style for a 64 that leaves tied for second on six under par alongside Irish Close champion Tiarnan McLarnon from Massereene and the Isle of Man's Tom Gandy, both of whom shot 69s.
Overnight leader Jack Hume from Naas, who failed to take advantage of the downwind holes en route to a level par 72, but lurks just three off the pace on five under alongside Waterford's Eanna Griffin, who took five at the last for a 69 after his tee shot kicked right into the drain.
"I changed to cack handed about three months ago and changed back today," said Penge, who had just returned the Sage Valley Invitational, where the highlight was not his golf but seeing his hero Tiger Woods in person. "I putted cack- handed yesterday and holed nothing so I went back to normal today and finally holed some putts for once."
What's more remarkable about Penge's round is that he pulled an intercostal muscle in his ribs on Wednesday that not only curtailed his preparations but also required physiotherapy and acupuncture.
In what is another clear entry for the "beware the injured golfer" files, Penge eagled the second thanks to a two iron to six feet and holed a 45 footer for birdie at the fourth to turn in three under 32.
He then played the downwind back nine in five under 32, lipping out from eight feet for eagle at the 11th before two putting the 14th for birdie (he reduced the par-five to a driver and a seven iron to the back right before getting up and down) and then holing a 40 footer for an eagle two at the 16th, where he hit a three wood onto green.
He then birdied the 17th, feathering a wedge out of the left rough to 15 feet and holing the putt to go eight under before safely parring the last for a 64 that made playing partner Robbie Cannon's 68 for a level par 144 look positively pedestrian.
Champion in 2013, Cannon was five under for his own round and bogey free playing the last but despite putting an iron in the drain off the tee and finishing with a bogey, he was in good spirits.
"That was a pleasure to watch," Campbell said Penge's superb round as he ended the day on level par in joint 20th alongside the likes of John Ross Galbraith and West of Ireland champion Jonathan Yates, who recovered from opening 75s with three under 69s.
Campbell made three birdies and seven birdies in a 68 that could have been better had he not lipped out from four feet at the 17th and then burned the edge from 20 feet at the last.
"A 64! That's a serious round of golf here," 29-year old Campbell said of Penge's effort. "It's hard to break 70 here, so to go six better is very impressive.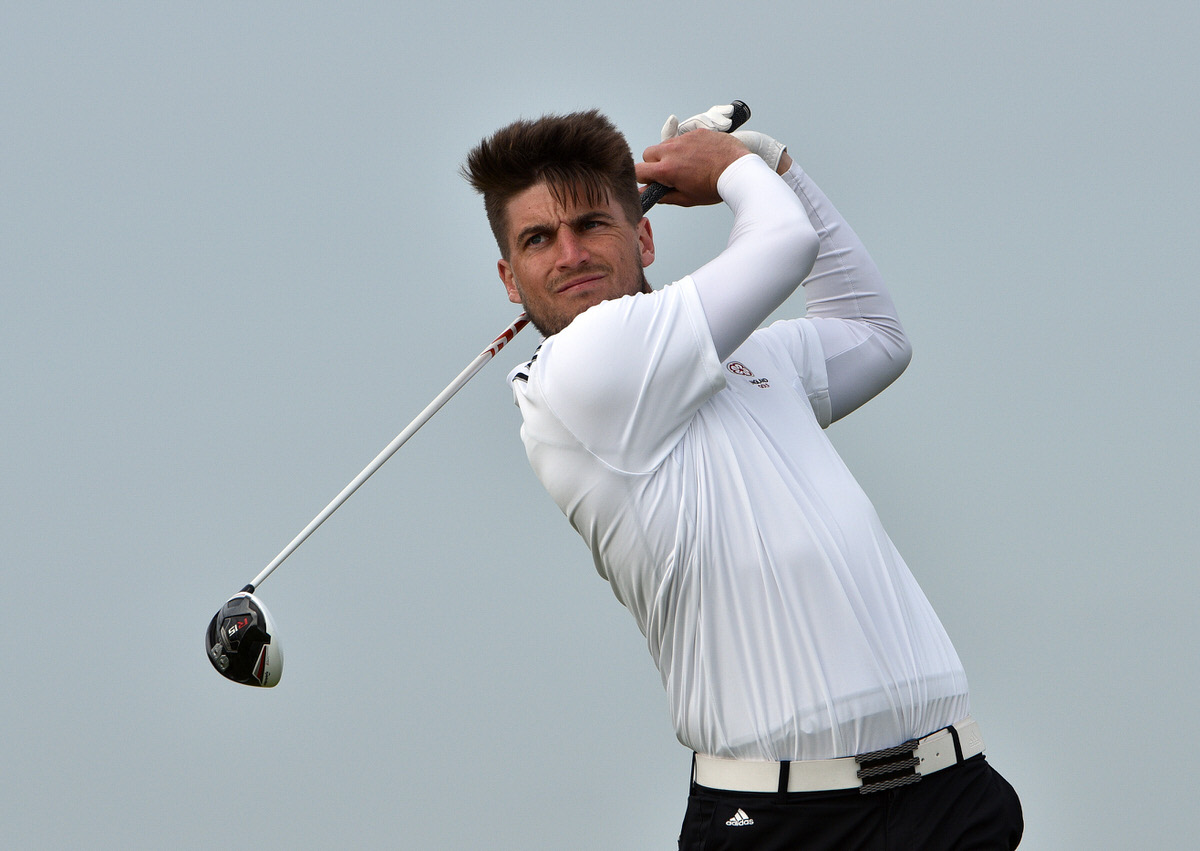 "To be fair, the back nine was giving up a lot of chances with every hole downwind but you have got to create the chances and make the putts."
Keen to add to his 2014 East of Ireland win, Campbell is hoping his experience will pay off, explaining: "Hopefully if I get myself into position on Sunday it will help me get over the line and I can get that other win I have been looking for."
As for his round, Campbell was more than pleased with the total even though he played well enough to go lower.
"I knew if I could get to one under for level par after nine there were chances coming in," he said, explaining that he missed two good eagle chances on the 14th and 16th from 15 feet.
"It is ice to be playing well, giving myself chances and not putting myself in any danger off the tee.. I am driving the ball well and giving myself chances.
"The front nine was tricky and you had to be committed to ever club. I was thinking anything one or two under par wold be a goodscore and we managed to go a couple better. But there is a long way to go, especially around this place and hopefully come Sunday evening we will not be far away."
Like Campbell, McLarnon is keen to win another big event having made the breakthrough in last year's Irish Close at Tramore.
"I am happy the way I am playing," the 24-year old said. "I have been showing glimpses of good golf and hopefully this week it will all come together.
"Obviously wins are great but I just want to get back to playing good golf and enjoying it more. It is not always easy. I am just starting to find my way again and I can cut out the mistakes I will be thereabouts at the end of the week."
Hume was slightly disappointed not to take advantage of the easier holes but happy that he's involved in a marathon, not a sprint.
"I am not in a bad position," said Hume who followed a birdie at the fourth with bogeys at the fifth and ninth, then birdied the 10th and 11th before handing back a shot at the 15th.
"It was tricky start and you have to rake advantage on the back nine and I didn't do that. I birdied 10 and 11 and I was close to hitting it stiff on 12 but the bank killed it. Two feet further and it is stone dead. So I will come down early tomorrow and see if I can get something going before I go out at lunchtime,
England's Matthew Jordan is alone in seventh after a pair 70s with Welshman Evan Griffith firing seven birdies in a 67 to share eighth on three under with Portmarnock's Conor Purcell (72) and the Island's Kevin Le Blanc. who celebrated his 18th birthday but shooting 69.
Flogas Irish Amateur Open, The Royal Dublin (Par 72)
Round 3 tee-times
07:00 Kinsley, Hackett
07:11 Gibson, MacAndrew
07:22 Fyfe, Foley, Kane
07:33 Coughlan, Firth, Hausweiler
07:44 Reidy, Davren, Anderson
07:55 Best, Murray, McCormack
08:06 Smith, Wilson, Duggan
08:17 Thomson, Schuepbach, Collins
08:28 McElroy, Zuska, Hood
08:39 Russell, Davidson, Mallon
08:50 Edwards, Brader, Harman
09:01 Ryan, Lenehan, Holzwarth
09:12 Lopez, Pineau, Hausweiler
09:23 Lester, Aktie, Lyons
09:45 L Grehan, O'Rourke, Tomlinson
09:56 Rafferty, Verlaar, Ryan
10:07 Ramsay, Flanagan, Geraghty
10:18 Long, Hague, Johnston
10:29 McKinstry, Reid, Carter
10:40 Bombosch, S Grehan, Schellong
10:51 Fox, Girao, Daly
11:02 Muller, Vahlenkamp, Clarke
11:13 McDermott, Savage, Harradine
11:24 Mulligan, Grant, Harman
11:35 O'Rourke, Ruff, Ross
11:46 Li, Fairweather, Robins
11:57 Whelan, Fitzmaurice, Singh Brar
12:19 Adank , Butler, Mullarney
12:30 Moore, Mc Donnell, Yule
12:41 Nevin-Wharton, Hickey, Silva
12:52 Dawson, Petrozzi, Lopes
13:03 Strickland, Bloor, Shanahan
13:14 Neergaard-Peterson, Yates, Galbraith
13:25 Cannon, Braeunig, Whitaker
13:36 Chapman, Holland, Mullins
13:47 Gleeson, Enefer, Sugrue
13:58 Boegel, Syme, Purcell
14:09 Le Blanc, Griffith, Jordan
14:20 Hume, Griffin, Gandy
14:31 McLarnon, Penge, Campbell Jnr.
After 36 holes
136 Colm Campbell Jnr (Warrenpoint) 68 68
138 Marco Penge (England) 74 64, Tiarnan McLarnon (Massereene) 69 69, Tom Gandy (Isle of Man) 69 69
139 Eanna Griffin (Waterford) 68 71, Jack Hume (Naas) 67 72
140 Matthew Jordan (England) 70 70
141 Evan Griffith (Wales) 74 67, Kevin Le Blanc (The Island) 72 69, Conor Purcell (Portmarnock) 69 72
142 Connor Syme (Scotland) 74 68, Maximilian Boegel (Germany) 73 69, James Sugrue (Mallow) 72 70, William Enefer (England) 71 71, Alex Gleeson (Castle) 71 71
143 Patrick Mullins (Wales) 71 72, Daniel Holland (Castle) 71 72, Adam Chapman (England) 69 74, Sam Whitaker (England) 68 75
144 Christian Braeunig (Germany) 77 67, Robert Cannon (Balbriggan) 76 68, John-Ross Galbraith (Whitehead) 75 69, Jonathan Yates (Naas) 75 69, Rasmus Neergaard-Peterson (Denmark) 74 70, Mark Shanahan (Castlemartyr) 74 70, George Bloor (England) 74 70, Charlie Strickland (England) 74 70, Vitor Lopes (Portugal) 71 73, Gian-Marco Petrozzi (England) 71 73
145 Robin Dawson (Tramore) 75 70, Tomas Silva (Portugal) 75 70, John Hickey (Cork) 75 70, Rhys Nevin-Wharton (England) 73 72, Jack Yule (England) 72 73, Jack Mc Donnell (Forrest Little.) 72 73 , Bradley Moore (England) 72 73 , Ronan Mullarney (Galway) 72 73 , Cathal Butler (Kinsale) 71 74
146 Niklas Adank (Germany) 75 71, Jack Singh Brar (England) 74 72, Gavin Fitzmaurice (Balcarrick) 74 72, Jake Whelan (Newlands) 74 72, Steven Robins (England) 74 72, Colin Fairweather (Knock) 73 73, Jamie Li (England) 73 73, Craig Ross (Scotland) 73 73, Patrick Ruff (England) 73 73
147 Conor O'Rourke (Naas) 76 71, Kieron Harman (Wales) 75 72, Aaron Grant (Dundalk) 74 73, Thomas Mulligan (Co. Louth) 74 73, Michael Harradine (Switzerland) 74 73, Jamie Savage (Scotland) 74 73, Gary McDermott (Carton House) 73 74, Oliver Clarke (England) 73 74, Timo Vahlenkamp (Germany) 72 75, Ferdinand Frederik Muller (Germany) 72 75, Barry Daly (Edmondstown) 69 78
148 Joao Girao (Portugal) 76 72, James Fox (Portmarnock) 75 73, Nicolas Schellong (Czech Republic) 75 73, Stuart Grehan (Tullamore) 75 73, Tim Bombosch (Germany) 74 74, Shaun Carter (The Royal Dublin) 74 74, Michael Reid (Galgorm Castle) 74 74, Neil McKinstry (Cairndhu) 73 75, Liam Johnston (Scotland) 73 75, David Hague (England) 73 75, Cameron Long (England) 73 75, Cian Geraghty (Laytown & Bettystown) 72 76, Sean Flanagan (Co. Sligo) 72 76
149 David Ramsay (Wales) 78 71, Michael Ryan (New Ross) 78 71, Pierre Verlaar (Netherlands) 75 74, Caolan Rafferty (Dundalk) 75 74, Phil Tomkinson (England) 75 74, Ian O'Rourke (The Royal Dublin) 74 75, Liam Grehan (Mullingar) 74 75, Joe Lyons (Galway) 74 75, Khaled Attieh (Saudi Arabia) 70 79
150 Rowan Lester (Hermitage) 78 72, Moritz Hausweiler (Germany) 77 73, Pierre Pineau (France) 76 74, Sigot Lopez (Spain) 75 75, Maximilian Holzwarth (Germany) 74 76, Geoff Lenehan (Portmarnock) 74 76, Sean Ryan (The Royal Dublin) 71 79
151 Kyle Harman (Wales) 77 74, Nathan Brader (Portugal) 75 76, Owen Edwards (Wales) 74 77, Dwayne Mallon (Dungannon) 74 77
152 Jack Davidson (Wales) 80 72, William Russell (Clandeboye) 79 73, Jordan Hood (Galgorm Castle) 78 74, Jiri Zuska (Czech Republic) 76 76, Dermot McElroy (Ballymena) 75 77, Gary Collins (Rosslare) 72 80, Loris Schuepbach (Switzerland) 71 81
153 Jonathan Thomson (England) 78 75, Harry Duggan (Kilkenny) 77 76, Adam Wilson (Wales) 75 78
154 Eugene Smith (Ardee) 82 72, Andrew Mccormack (Castletroy) 79 75, Tom Murray (England) 79 75, Ben Best (Rathmore) 79 75, Barry Anderson (The Royal Dublin) 79 75, Fraser Davren (Scotland) 77 77, Declan Reidy (Co. Sligo) 75 79, Julian Hausweiler (Germany) 73 81
155 Ben Firth (England) 82 73, James Newton (England) 79 76, Paul Coughlan (Moate) 77 78
156 Matthew Kane (Whitehead) 78 78, Robert Foley (Switzerland) 77 79
157 Calum Fyfe (Scotland) 78 79, Nick MacAndrew (Scotland) 76 81
158 Scott Gibson (Scotland) 84 74, Declan O'Neill (Carton House) 82 76, Thomas Hackett (The Royal Dublin) 77 81
160 Benjamin Kinsley (Scotland) 77 83.
Brian Keogh