Camaraderie to the fore as Westport hosts AIG Cups and Shields Finals
You can win an All Star, an Epsom Derby and one of Ireland's historic amateur titles but few things compare to winning a coveted green pennant in the AIG All Ireland Cups and Shields finals.
Just ask the likes of former Waterford hurler Paul Flynn, who will captain Tramore in the AIG Junior Cup semi-finals at Westport tomorrow, or former South of Ireland champion Justin Kehoe, who is a member of a Limerick squad bidding for a famous double in the AIG Barton Shield and Senior Cup.
The men from Ballyclough are hoping to become the first club since Shandon Park in 2000 to do the double.
And while they face a gargantuan task against the Ulster champions Warrenpoint, who are seeking their third Barton Shield win since 2016 and their eighth since 1987, Kehoe is hopeful.
"We are all aware of Warrenpoint's record," Kehoe said. "They have had great success in recent years and throughout their history, so we know we are up against it.
"But we have a good team and we hope to play to the best of our ability and see where that gets us. We are under no illusions and we just hope to perform."
Limerick have no shortage of experience in their side with Kehoe a strong partner for Owen O'Brien when they face international star Colm Campbell and Ryan Gribben as Ciaran Vaughan and Michael Reddan face Paul Reavey and Rian Carvill.
Limerick last won the Barton Shield in 1976 and while Warrenpoint are the hot favourites, Kehoe promises they will be ready for battle.
"It's a great honour just to be at the Cups and Shields finals," added Kehoe, who won the Barton Shield with UCD in 2001. "And we just hope to represent the club well, play well and hopefully have some success."
On paper, the Barton Shield looks set for a Warrenpoint-Dundalk final with the Leinster champions facing Connacht kingpins Co Sligo.
Campbell is eying a showdown with fellow international Caolan Rafferty but the Dundalk man knows what it's like to lose a Barton Shield final after the Leinster champions fell to Athenry in last year's final.
Dundalk's John Conlon, who jointly manages the team with Alan McCabe, said: "We were very disappointed to lose in last year's final and our whole focus this year has been on getting back to the national final and bringing a green pennant back to Dundalk."
They have a tough semi-final against County Sligo, who won three Barton Shields in a row from 1995 to 1997 and fourth in 2006 at Enniscrone.
In brothers TJ and Daniel Ford and Ruairi O'Connor and Thomas Finnegan, they have two formidable partnerships for one of the most exacting events in amateur golf.
Limerick's Senior Cup semi-final test comes tomorrow when they face Galway and Ulster champions Massereene meet Carton House in their bid for their first green pennant.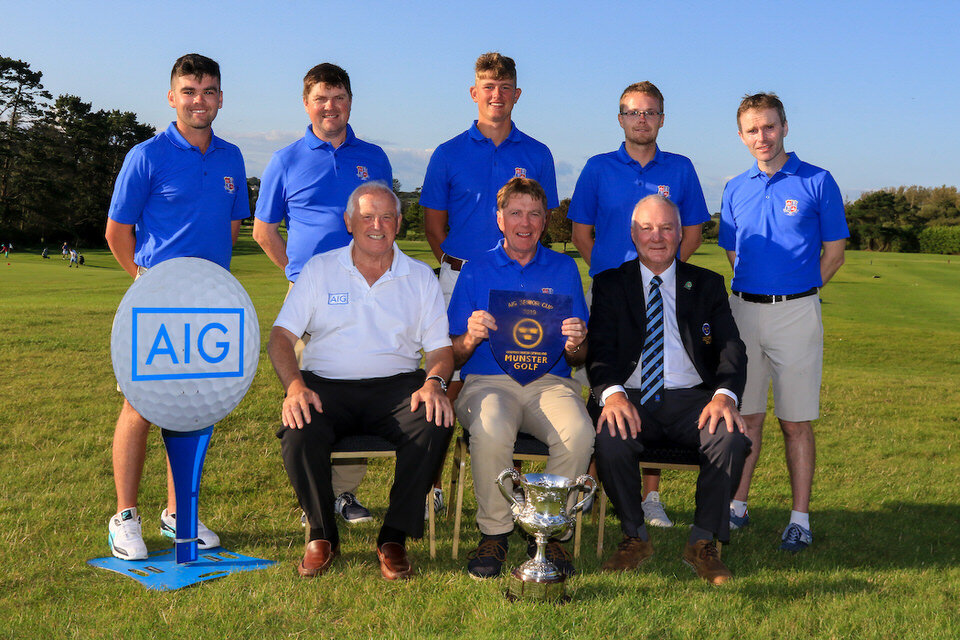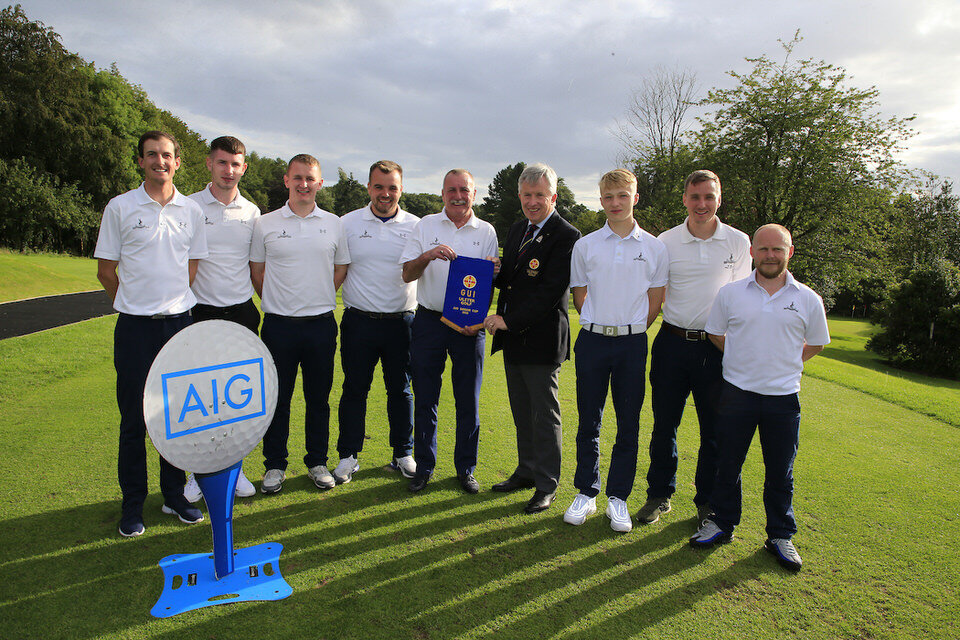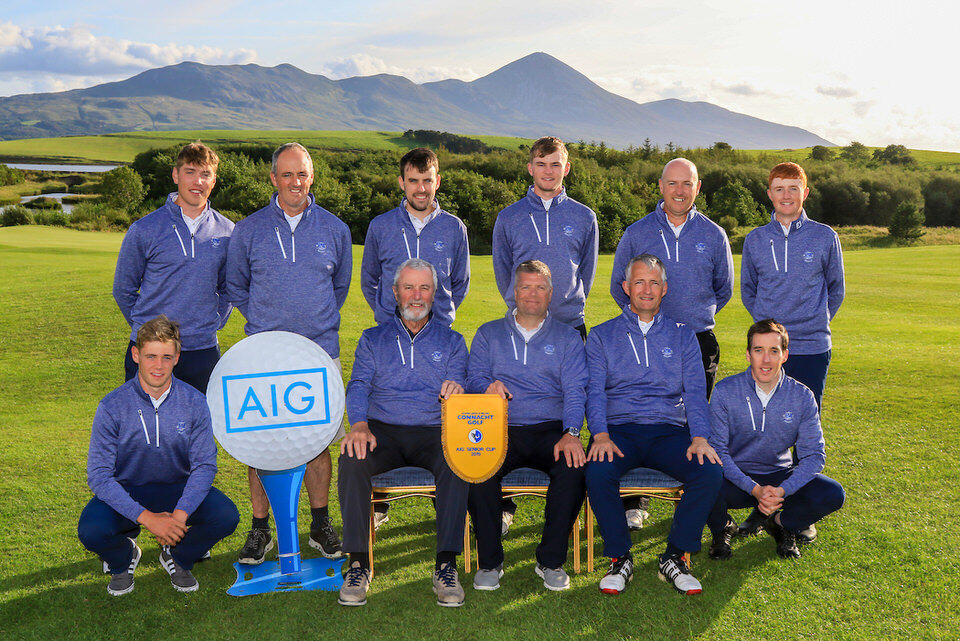 The club last won the green pennant in 2002, but only Michael O'Kelly remains from that side while Galway boast a strong side.
With international Ronan Mullarney, mid-amateur star Eddie McCormack and four veterans of their 2017 winning side in Liam Power, Joe Lyons, Liam Nolan and Luke O'Neill, Galway are hot favourites.
"They have a very strong side with Ronan Mullarney the Close champion and Joe Lyons an old clubmate of mine at Birr," said Kehoe.
"Eddie McCormack is back and Luke O'Neill is there too. So they have a strong side but we feel we have a strong team and we will see where it gets us tomorrow and again on Saturday."
As for the other semi-final, international colleagues Tiarnan McLarnon and Keith Egan are the leading lights for Massereene and Carton House and both sides are looking to achieve a first at senior level.
"It's our first time in the All Ireland finals and we are a small club so we are looking forward to it," McLarnon said. "We have done a good bit of fundraising to get the team there and everyone bought into it.
"We only have around 450 or 500 members so it is going to be tough against Carton House, who have Keith, Paul O'Hanlon and players with lots of experience like Gary McDermott and Dessie Morgan. It's going to be a test for us.
"They have boys who have played championship golf and we will be underdogs. But we will put a good game plan in place and try and win it."
While the Barton Shield Final brings play to a conclusion today, there are also the semi-finals of the AIG Jimmy Bruen Shield and the AIG Pierce Purcell Shield.
In the "Bruen", Nenagh fly the Munster flag when they face The Island as Roscommon take on Tandragee in the other.
After winning the Pierce Purcell Shield at Thurles last year, Nenagh are seeking their third success in the "Bruen" having won it for the first time at Dundalk in 1997 and again at Tullamore in 2009.
In the Pierce Purcell, former Derby-winning jockey Christy Roche will be going for his second All Ireland medal as Cill Dara, who also have former commentator Dessie Scahill in their ranks, face Castlebar.
Munster champions Charleville face Co Monaghan's Rossmore looking to repeat their 2006 success.
The Junior Cup semi-finals are scheduled for tomorrow with hosts Westport keeping their fingers crossed they can end a run of bad luck in the event.
They have lost three finals since 2006 and face Ulster champions Malone tomorrow as former Waterford hurler Paul Flynn captains Tramore against Leinster champions Dun Laoghaire.
"We have a decent panel but we are going into the unknown a bit," said Flynn. "We are treating it as a big adventure.
"Only Noel Cunningham, who won an All Ireland with Tramore in 1992, has played in the finals before.
"It's special to be here. It's the one week in the year a club golfer can think like a pro and prepare like a pro and try and emulate a pro so are looking forward to it."
The Waterford men are seeking first success in the Junior Cup in the club's 125th anniversary year, and with hurler Dave Bennett a key player in their Munster final success over East Cork, they have high hopes.
Three days of heart-stopping action await, and in Westport, the 19 clubs that have made their way to the lovely parkland by Clew Bay are in for a treat.
AIG Cups and Shields Finals, Westport
Today
AIG Barton Shield Semi-Finals (Final at 1320)
(0800) Limerick v Warrenpoint:
C Vaughan & M Reddan v P Reavey & R Carvill;

O O'Brien & J Kehoe v C Campbell & R Gribben.
(0818) Dundalk v Co Sligo:
J Mackin & A Grant v R O'Connor & T Finnegan;

C Rafferty & E Murphy v TJ Ford & Daniel Ford.
AIG Jimmy Bruen Shield Semi-Finals
(0845) The Island v Nenagh:
J Grant Jnr & P Cullen v C O'Dwyer & T O'Gara;

JW White & J Blake v R Hurley & P Hackett;

C Hurley & C Hurley v B Freeman & M O'Gara Jnr;

C McCormack & R Govan v M Scroope & J Adler;

J Gartland & C McGleenon v M Corrigan & B Hackett.
(0930) Roscommon v Tandragee
K Connaughton & J Walker v D Acheson & J Quinn;

F Grehan & J McHale v C Fearon & A Proctor;

J Sharkey & D Farrell v B Boyd & J McConville;

F Hoard & S McGahon v J Forde & A Place;

M Farrell & S McConn v P Headley & J Campbell.
AIG Pierce Purcell Shield Semi-Finals
(1015) Rossmore v Charleville:
A Finnegan & J McKenna v M Thompson & O Kennedy;

J Corrigan & P Trappe v T Barry & D Deady;

P Bennett & B Gilbane v C Herlihy & P O'Kelly;

R O'Donnell & A Trappe v G Mullane & J O'Keeffe;

B Casey & D McMahon v S Twomey & E Leahy.
(1100) Cill Dara v Castlebar
M Dowling & P Moran v R Prendergast & D Prendergast;

D Scahill & A McCormack v S Haugh & P Rice;

M Malone & C Roche v D Molloy & V Jennings;

C O'Leary & D Loakman v J Quigley & P Fitzgerald;

N Flanagan & E Cross v C Dawson & P Waldron.
Tomorrow
Senior Cup Semi-Finals
(0830) Massereene v Carton House;

(0915) Galway v Limerick.
Junior Cup Semi-Finals
(1010) Malone v Westport;

(1055) Dun Laoghaire v Tramore.

(1200) Jimmy Bruen Shield Final;

(1300) Pierce Purcell Shield Final.
Sunday
(0930) Junior Cup Final;
(1030) Senior Cup Final.
Brian Keogh