Leona seeking win number three: "I am not parking the bus just yet"
Rory McIlroy confirmed yesterday that he'd play the Aberdeen Scottish Investments Scottish Open the week before The Open, but Leona Maguire is also seeking form ahead of a major.
The Slieve Russell star is hunting her third Symetra Tour win of the season in the Zimmer Biomet Championship in Alabama before heading for Charleston for next week's US Women's Open.
"It's a brand new event and the biggest one of the year," said Leona. "I was going to back to Europe to play in the Jabra Ladies Open, which is the European qualifier for the Evian Championship, but this is a huge event."
While there was battlefield promotion for a third Symetra Tour win in previous seasons, that bonus no longer exists, and a win at the Robert Trent Jones Trail's Lake Course at Grand National would extend her lead at the top of the money list and move her further up the Rolex World Rankings
"It's the first year that battlefield promotion for three wins has gone, which is unfortunate," she said. "But it can't be helped. Anyway, I'd have had to win three first, so it's not relevant."
Now ranked 174th in the world after her five-shot win in the Symetra Classic near Charlotte last week, she's not tempted to take her foot off the gas, despite opening up a $21,864 lead at the top of the money list with the top 10 awarded LPGA Tour cards.
"The purses are a little bit bigger this year so a lot can change," said Leona, who has already made $15,000 more than the player who won the 10th card last year. "So no, I have to keep going at what I am at. I don't have a number in mind, but I can't get complacent just yet, and I am going to play the events I was down to play. I am not parking the bus just yet."
Considering she had not even turned professional 12 months ago, Maguire could not be happier with the way her season is going after recording two wins and a six top 20 finishes from 11 starts worldwide, not to mention a successful qualifying bid for the US Women's Open.
"I didn't dwell on the playoff last week," she said of her loss to Spain's Maria Parra after a five-hole playoff for the IOA Invitational on May 11. "There wasn't much I could have done.
"But I played some great golf again, and it was nice in the last round when it was tight through nine holes, and I stuck to my game plan. It was nice to have another five-under bogey free final round. I'd struggled with my last rounds early in the year, but the last few weeks, I have been finishing quite strong, which is nice."
Putting was key for Leona again, but she was also pleased with her play on the par-fives and to be able to use some local knowledge she'd gleaned from a call to Seamus Power, her former Olympics teammate.
"My putting and my par fives have been better this year. Last week the course was familiar to me, just like the courses I played back in college in North Carolina with the pine trees and the elevated greens and fast, grainy Bermuda grass again. So I was quite comfortable last week. It wasn't easy, though. The greens were very slick, so putting was definitely key. And it was tight with three or four of us tied going into the last day and through nine holes.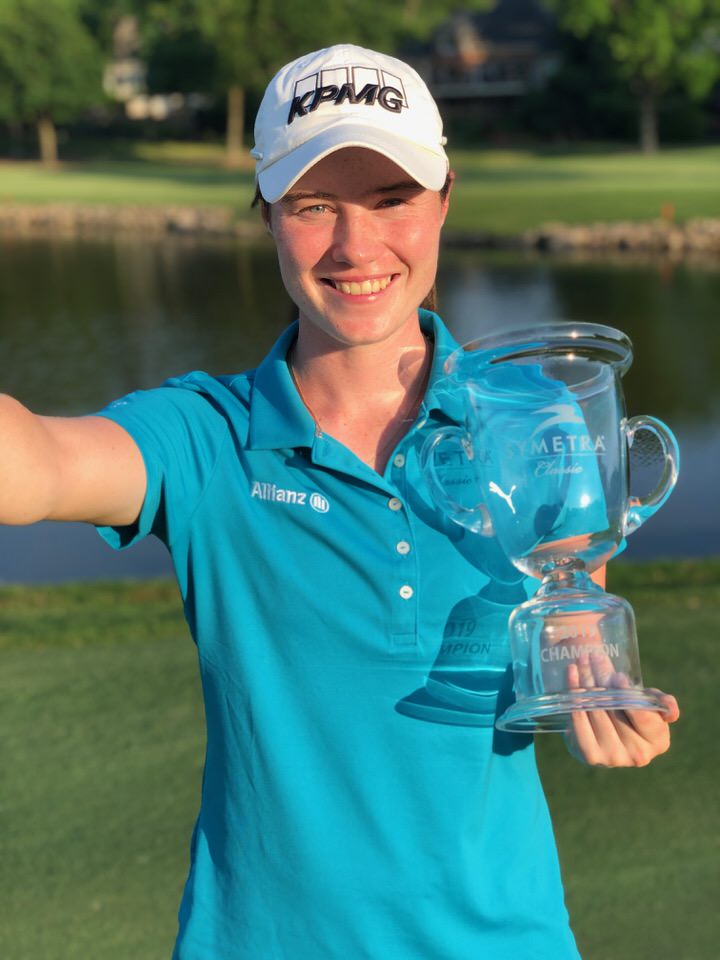 "Steph Na made quite a run at the start. She was three under after five or six holes. And I was just trying to keep with her through nine. Then I got a nice birdie on 11 and another on 14 and didn't know there was a gap at that point.
"It was a tough finish, and it was good to get a par on 17 first all week, and 18 was a quite tough par five with water everywhere, and that was one of the holes Seamus told me to look out for. So it was nice to get a birdie and get to 10 under."
While she was free last weekend, she opted not to go to the Country Club of Charleston for a US Women's Open practice round but to conserve her energy.
"We thought about it this weekend, but I have the benefit of playing US Amateur there, so hopefully it hasn't changed too much. I had to prioritise this week."
As for her position in the money list and talk of moving into the frame for Solheim Cup selection, Europe's 17th highest ranked player is just keeping her head down.
"Every bit helps from now on, and I have got quite a good foundation after only six events," she said of her earnings. "The great thing about is that this time last year I hadn't even played a Symetra event. I was at the NCAAs in Oklahoma."
As for the Solheim Cup, she said: "I haven't spoken to Catriona Matthew, and I have no idea what she's thinking. I suppose my priority, for now, is to do as well as I can on the Symetra Tour and see if I can keep it going for the rest of the summer."
Stephanie Meadow, meanwhile, plays the LPGA Tour's Pure Silk Championship in Virginia as her build up for the US Women's Open.
Brian Keogh