Fighting Irish eye last gasp medal charge
Ireland's Olivia Mehaffey defied a stiff southerly wind to lead from the front and give the girls in green a shot a medal in the World Amateur Team Championships at a wind-blown Carton House.
The hosts looked down and out after a disappointing day two performance left them 13 shots off the medal places in the Espirito Santo Trophy.
But a frustrated Mehaffey (20) blew off steam with an early morning gym session and came out fighting, blasting five birdies in a two-under 70 on the tough Montgomerie Course that included three in her last four holes.
"After the round initially I needed some space, I put my headphones in and went and practised by myself," Mehaffey said of her determination to overcome Thursday's disappointment.
"Then I had a wee chat with [coaches] Dave [Kearney] and Donal [Scott] who were trying to get me to focus more on the next two days.
"So it feels good to turn it around. I think we were all a bit more relaxed and ready to go out and fight today."
With Annabel Wilson battling her way to level par 72 and Paula Grant's gutsy 73 discarded despite two closing birdies, Ireland's two-under third round aggregate was the best of any nation in the top-10, catapulting them from tenth to solo fourth on four-under par.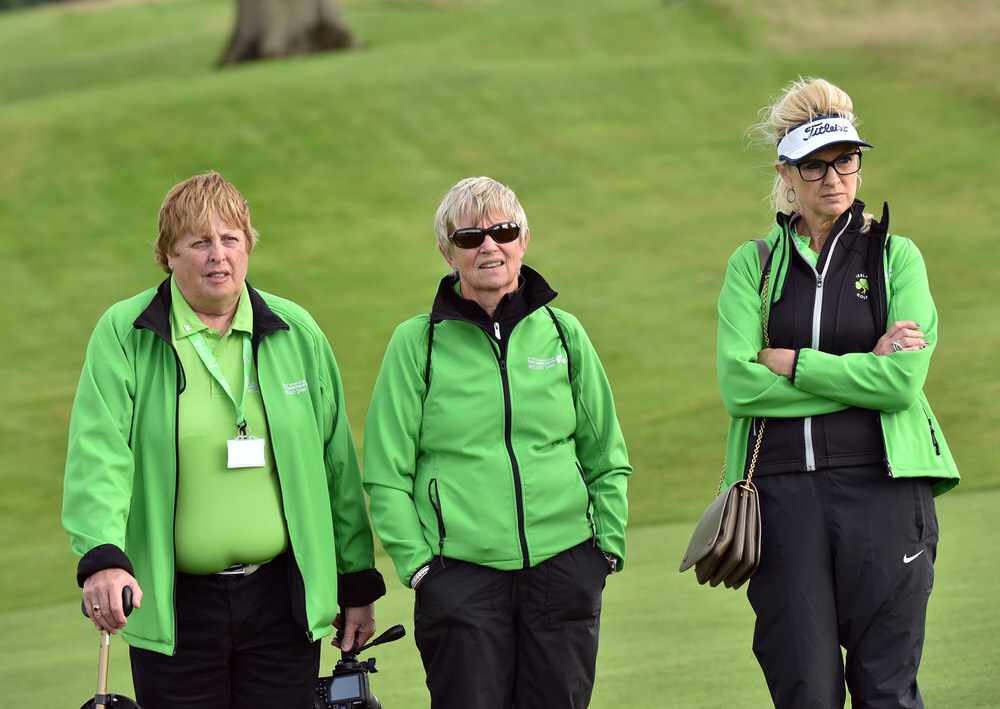 They might be 15 shots behind the United States, who lead by five shots on 19-under par from defending champions South Korea.
But while they are also nine strokes adrift of third-placed Japan, they could still challenge for a bronze medal with two hot final rounds on the more accessible, par-73 O'Meara Course today.
"We've seen a 64, we've seen a 65," Mehaffey said of Ireland's chances of mounting a final day charge today with the Japanese fighting for their first podium finish in the Espirito Santo Trophy. "There's no reason to believe we can't do that.
"We are good when we are being aggressive, and you can do that on O'Meara. I am personally very excited, and I am sure the girls are as well.

"A couple of low ones tomorrow and we will see what happens."
She certainly proud of the way she fought back yesterday to give Ireland what is still only a slim chance of a medal.
"I had a lot of fight today," Mehaffey said after making back-to-back eight-footer for birdies at the 17th and 18th to erase the disappointment of her closing double bogey for a level par 73 at the O'Meara on Thursday.
"Even this morning I wasn't quite over it so I went to the gym to let a wee bit of frustration out, and I came out fighting.
"I wanted to do a good job, and I am pretty proud of how I played today. O'Meara tomorrow and a couple of low ones from any of us and definitely we can shoot up the leaderboard and have a good chance."
Non-playing captain Danielle McVeigh believes that playing smart, aggressive golf and still pay off.
"We just need to score as low as we possibly can, who knows what's going to happen," she said. "If the players can stand up and commit to each and every shot tomorrow, I think we'll be in a good spot.
"Aggressive play to smart targets has been our mantra all week. The strategy may change for tomorrow but golf owes us nothing, it's up to us to go and take it. We'll see how many birdies we can make and see where we're at the end of tomorrow."
Mehaffey lies fifth in the individual standings on four-under, 10 shots behind Korea's Ayean Cho who followed her nine-under 64 on the O'Meara Course in round two with a one-under 71 on the Montgomerie.
She heads Japan's Yuka Yasuda (72) by a shot with American world No 1 Jennifer Kupcho two shots further back on 11-under after she birdied her last four holes to shoot 71.
Ireland's two-under day was the best of the nations in the top 10 although the Americans rallied to shoot one-under yesterday with Kristen Gillman shooting 72.
Holders South Korea struggled to a three-over total and while Cho shot 71, a four-over 76 by Seo Yun Kwon was their next best score as they posted a three-over total to allow the Americans to open up a five-shot lead.
"It was a really tough day, and everyone had to grind," said USA captain Stasia Collins. "We were on 12 and we had two players at plus 3, and I told them that their scores might count, and they had to grind it out. They worked very hard and made some birdies coming in. It was great."
One of those players was McCormack medal winner and World No. 1 Kupcho, who shrugged off a shaky start for her one-under 71.
"I was struggling with putting so I decided instead of lining up the ball, I would set the ball down the putt like I do in practice," said Kupcho, who won the 2018 NCAA Women's individual title playing for Wake Forest.
"I don't' focus that much and I just hit it. It worked really well, and I made some putts and got my confidence back and I birdied the last two holes, which was a bonus."
Two-time U.S. Women's Amateur champion Gillman rebounded from three dropped shots in two holes to finish with an even-par 72, which gave the Americans a team total of 143.
Japan kept its place in third position at 421 followed by resurgent host Ireland in fourth at 430 and Italy, Germany and People's Republic of China tied for fifth at 431. Completing the top 10 were Austria in eighth at 432, Mexico in ninth at 433 and Denmark in 10th at 434.
Quotable
Karoline Stormo of Norway (on her 3-under 70 at the O'Meara Course)
"We had been hitting the ball really good the last two days and today the putts started dropping. That was the main difference. We knew we were capable of shooting low. I think both courses are really nice. It was not as tough as it was the other days as it was not as windy. The weather was really nice – it was warm."
Ayean Cho of Republic of Korea
"I was a little worried with the wind this morning, but I started OK and it gave me confidence to play. On the back nine, the wind got a little slower and that's why I played well."
Kristen Gillman, USA
"You always want to be in the lead, so it definitely helps going into tomorrow."
Notable
The field's youngest player, 13-year-old Shannon Tan of Singapore, has recorded a 54-hole total of 234 (79-78-77) and is her team's best scorer.
Norway 's Renate Hjelle Grimstad and Karoline Stormo posted identical 3-under 70s at the O'Meara Course and helped move their country to T-12th after starting the day T-33rd. The pair play college golf in the USA: Grimstad at the University of Miami and Stormo at Kent State. "Yesterday we were all hitting it really good and nothing dropped in," Grimstad said. "It's good now to see we are able to climb up the leaderboard….All of a sudden we can count ourselves up there. We are all really pretty happy for tomorrow – it should be a good day." The team's 140 was the best of the day.
The best round of the day belonged to Pauline Roussin-Bouchard of France, who posted a 5-under 68 at the O'Meara, where she recorded five birdies, an eagle and a double bogey. She won the St. Rule Trophy at St Andrews in 2016.
In the final round, the USA will be looking for its first medal since it earned silver in 2010. If it holds its position, it will win the Espirito Santo Trophy for the 14th time.
The Republic of Korea is vying for its fifth consecutive medal and has won the WWATC three of the past four competitions.
Japan is seeking its first medal in 28 appearances. Its best finish is fourth in 1984.
What's Next:
Round 4 begins Saturday at 07:45 a.m. off the No. 1 tees on both courses. The leading teams will play on the O'Meara course in the final round.
More
Spectators are encouraged to attend, and entry into Carton House for the 2018 World Amateur Team Championships is free. For more information, please visit igfgolf.org/watc/watc-2018/
World Amateur Team Championships, Espirito Santo Trophy, Carton House

After 54 holes
415 United States of America (Gillman 72, Vu 73, Kupcho 71)
420 Republic of Korea (Kwon 76, Hong 80, Cho 71)
421 Japan (Yoshida 76, Yasuda 72, Nishimura 74)
430 Ireland (Mehaffey 70, Grant 73, Wilson 72)
431 Germany (Harm 79, Hausmann 73, Henseleit 75)
431 Italy (Don 74, Paltrinieri 72, Nobilio 76)
431 People's Republic of China (Du 79, Liu 75, Yin 77)
432 Austria (Bettel 76, Ruettimann 79, Spitz 73)
433 Mexico (Lopez 81, Ruiz Laphond 74, Fassi 71)
434 Denmark (Fredgaard 74, Nielsen 75, Hansen 73)
435 Switzerland (Valenzuela 71, Berger 72, Moosmann 74)
436 Canada (Ko 75, Lee 72, Szeryk 71)
436 Sweden (Kinhult 73, Wallin 76, Grant 74)
437 New Zealand (Alvarez 74, Garvey 72, Keh 77)
438 Australia (Kay 73, Kim 76, Hodgkins 83)
438 France (Roussin-Bouchard 68, Broze 73, Laisne 73)
438 Norway (Stormo 70, Forbrigd 74, Hjelle Grimstad 70)
438 Paraguay (Escauriza Stoeckl 75, Garcia Peralta 77, Servin 73)
438 Spain (Marfa Sans 73, Hualde Zuniga 76, Perez Sanmartin 76)
439 England (Fuller 73, Muse 76, Lamb 77)
439 South Africa (Telfer 73, Mistry 77, MacNab 72)
440 Netherlands (Bontan 76, Meekers 85, Weber 74)
442 Chinese Taipei (Lin 71, Lin 77, Huang 80)
442 Thailand (Boon-In 78, Piddon 78, Tatematsu 78)
444 India (Dagar 76, Dilawari 81, Sagoo 77)
444 Scotland (Jaffrey 81, McCook 82, McWilliam 74)
445 Belgium (Aveling 82, Louis 74, Van Dievoet 85)
445 Czech Republic (Ryskova 77, Vlasinova 72, Kouskova 75)
445 Dominican Republic (Corrie-Kuehn 88, Kim 75, Kuehn 73)
445 Malaysia (Shaari 77, Wong 70, Durisic 76)
446 Argentina (Anacona 80, Rossi 72, Simmermacher 72)
446 Puerto Rico (Rodriguez 74, Rivera 79, Pacheco Claudio 71)
447 Morocco (Laklalech 74, Rich 77, Belmati 74)
447 Venezuela (Raga 85, Gilly 75, De Antonio 76)
450 Colombia (Garces Escalante 77, Giraldo Roys 77, Serrano Silva 79)
450 Finland (Backman 74, Saksa 83, Riihijarvi WD)
452 Hong Kong, China (Cheung 79, Ho 80, Leung 83)
454 Iceland (Kristinsdottir 75, Traustadottir 83, Einarsdottir 76)
454 Portugal (Barroso Sa 80, Bessa 78, Gouveia 74)
455 Peru (Farah 73, Ballesteros 82, Fernandez-Davila 74)
455 Slovenia (Fric 75, Obersnel 76, Jecnik 76)
457 Guatemala (Echeverria 75, Mendizabal Riepele 85, Arenas 87)
459 Uruguay (Schmid 73, Marques 80, Garcia Austt Marques 78)
459 Wales (Morris 76, Ryan 77, O'Connor 79)
461 Slovakia (Heckova 78, Drocarova 75, Bolcikova 76)
462 Chile (Morgan 82, Matte 80, Villavicencio 79)
463 Poland (Polivchak 78, Gradecka 78, Zalewska 81)
465 Turkey (Ersoy 71, Bilgic 80, Timur 78)
466 Singapore (Chen 81, Ng 78, Tan 77)
470 Lithuania (Jarasunaite 81, Starkute 76)
476 Latvia (Gustafssone 77, Jucmane 79, Marksa 87)
477 Brazil (Grinberg 79, Lacaz Martins 79, de Araujo Caetano 81)
487 Guam (Tarpley WD, Vongjalorn 79, Peterson 83)
491 Bulgaria (Borisova 81, Simeonova 86, Skokanska 82)
493 Tunisia (Ladhari 85, Mansouri 85, Saki 76)
511 Ukraine (Rastvortseva 81, Horokhovska 86, Sapronova 100)
512 Lebanon (Assaf 96, Richani 80, Assaf 91).
Individual Standings (M=Montgomerie Course O=O'Meara Course)
203 A Cho (KOR), 68M, 64O, 71M;
204 Y Yasuda (JPN), 65M, 67O, 72M;
206 J Kupcho (USA), 70M, 65O, 71M;
211 K Gillman (USA), 74M, 65O, 72M;
213 O Mehaffey (IRL), 70M, 73O, 70M;
214 L Vu (USA), 72M, 69O, 73M; M Fassi (MEX), 74O, 69M, 71M;
215 R Kay (AUS), 68M, 74O, 73M; A Valenzuela (SUI), 73M, 71O, 71M; T Piddon (THA), 70M, 67O, 78M; P Roussin-Bouchard (FRA), 72O, 75M, 68O;
216 C Louis (BEL), 73M, 69O, 74M; M Escauriza Stoeckl (PAR), 72M, 69O, 75M; T Lin (TPE), 74O, 71M, 71M;
217 A Wilson (IRL), 71M, 74O, 72M; J Lee (CAN), 76M, 69O, 72M; Y Nishimura (JPN), 71M, 72O, 74M; A Nobilio (ITA), 73M, 68O, 76M; M Du (CHN), 67O, 71M, 79M; S Hausmann (GER), 73O, 71M, 73M; E Henseleit (GER), 72O, 70M, 75M; P Echeverria (GUA), 73O, 69M, 75M; L Bettel (AUT), 69O, 72M, 76M; S McWilliam (SCO), 74O, 69M, 74M; R Kuehn (DOM), 71O, 73M, 73O;
218 M Hansen (DEN), 72M, 73O, 73M; A Garvey (NZL), 76M, 70O, 72M; F Kinhult (SWE), 74M, 71O, 73M; C Don (ITA), 70M, 74O, 74M; G Wong (MAS), 76M, 72O, 70O; C MacNab (RSA), 75O, 71M, 72M;
219 S Kwon (KOR), 74M, 69O, 76M; L Grant (SWE), 73M, 72O, 74M; E Spitz (AUT), 73O, 73M, 73M;
220 Y Yoshida (JPN), 71M, 73O, 76M; Z Bontan (NED), 72M, 72O, 76M; R Yin (CHN), 73O, 70M, 77M; E Hualde Zuniga (ESP), 77O, 67M, 76M;
221 S Nielsen (DEN), 75M, 71O, 75M; A Fuller (ENG), 74M, 74O, 73M; W Liu (CHN), 77O, 69M, 75M; K Telfer (RSA), 75O, 73M, 73M; A Backman (FIN), 75O, 72M, 74M; S Kouskova (CZE), 73O, 73M, 75O; R Hjelle Grimstad (NOR), 78O, 73M, 70O; V Pacheco Claudio (PUR), 75O, 75M, 71O;
222 P Grant (IRL), 74M, 75O, 73M;
222 K Fredgaard (DEN), 79M, 69O, 74M; S Sagoo (IND), 78M, 67O, 77M; M Szeryk (CAN), 80M, 71O, 71M; A Servin (PAR), 77M, 72O, 73M; E Paltrinieri (ITA), 76M, 74O, 72M; L Harm (GER), 70O, 73M, 79M; K Stormo (NOR), 77O, 75M, 70O; D Forbrigd (NOR), 73O, 75M, 74O; L Belmati (MAR), 72O, 76M, 74O;
223 Y Hong (KOR), 72M, 71O, 80M; S Garces Escalante (COL), 75M, 71O, 77M; E Moosmann (SUI), 74M, 75O, 74M; M Farah (PER), 75M, 75O, 73O; D Dagar (IND), 74M, 73O, 76M; N Ko (CAN), 78M, 70O, 75M; H Muse (ENG), 77M, 70O, 76M; S Lamb (ENG), 75M, 71O, 77M; P Marfa Sans (ESP), 80O, 70M, 73M; E Broze (FRA), 76O, 74M, 73O;
224 J Alvarez (NZL), 73M, 77O, 74M; D Weber (NED), 77M, 73O, 74M; J Ruettimann (AUT), 76O, 69M, 79M; C De Antonio (VEN), 72O, 76M, 76M;
225 Y Berger (SUI), 79M, 74O, 72M; W Keh (NZL), 75M, 73O, 77M; M Perez Sanmartin (ESP), 75O, 74M, 76M; A Laisne (FRA), 76O, 76M, 73O; M Ho (HKG), 74O, 71M, 80M; I Laklalech (MAR), 78O, 73M, 74O;
226 G Kim (AUS), 73M, 77O, 76M; I Fric (SLO), 81M, 70O, 75O; C Lopez (MEX), 73O, 72M, 81M; K Vlasinova (CZE), 77O, 77M, 72O;
227 M Simmermacher (ARG), 77M, 78O, 72O; R Tatematsu (THA), 77M, 72O, 78M; B Wallin (SWE), 80M, 71O, 76M; P Schmid (URU), 76M, 78O, 73O; A Ruiz Laphond (MEX), 79O, 74M, 74M; C Jaffrey (SCO), 74O, 72M, 81M; M Cheung (HKG), 70O, 78M, 79M; L Bessa (POR), 78O, 71M, 78O; G Starkute (LTU), 75O, 76M, 76O;
228 E Anacona (ARG), 75M, 73O, 80O; V Rossi (ARG), 79M, 77O, 72O; D Gradecka (POL), 76M, 74O, 78O; S Shaari (MAS), 78M, 73O, 77O; L Durisic (MAS), 78M, 74O, 76O; Y Kim (DOM), 77O, 76M, 75O; H Einarsdottir (ISL), 79O, 73M, 76O;
229 M Serrano Silva (COL), 79M, 71O, 79M; A Bolcikova (SVK), 77M, 76O, 76O; V Obersnel (SLO), 79M, 74O, 76O; N Boon-In (THA), 77M, 74O, 78M;
229 B Morris (WAL), 79M, 74O, 76O; Y Huang (TPE), 79O, 70M, 80M; H Ryskova (CZE), 77O, 75M, 77O; S Gouveia (POR), 81O, 74M, 74O; Y Rodriguez (PUR), 77O, 78M, 74O;
230 K Mistry (RSA), 79O, 74M, 77M; K Lin (TPE), 79O, 74M, 77M; J Rivera (PUR), 75O, 76M, 79O;
231 M Jucmane (LAT), 79M, 73O, 79O; N Villavicencio (CHI), 76M, 76O, 79O; R Meekers (NED), 75M, 71O, 85M;
232 K Hodgkins (AUS), 75M, 74O, 83M; K O'Connor (WAL), 78M, 75O, 79O; S Garcia Peralta (PAR), 83M, 72O, 77M; E Saksa (FIN), 76O, 73M, 83M; H McCook (SCO), 77O, 73M, 82M;
233 V Giraldo Roys (COL), 83M, 73O, 77M; R Dilawari (IND), 77M, 75O, 81M; C Aveling (BEL), 78M, 73O, 82M; A Matte (CHI), 80M, 73O, 80O; S Garcia Austt Marques (URU), 78M, 77O, 78O; S Barroso Sa (POR), 80O, 73M, 80O;
234 K Drocarova (SVK), 81M, 78O, 75O; J Fernandez-Davila (PER), 82M, 78O, 74O; S Ersoy (TUR), 83M, 80O, 71O; S Timur (TUR), 81M, 75O, 78O; S Tan (SGP), 79M, 78O, 77O; V Gilly (VEN), 84O, 75M, 75M; S Traustadottir (ISL), 76O, 75M, 83O;
235 N Heckova (SVK), 80M, 77O, 78O; L Jecnik (SLO), 83M, 76O, 76O; V Richani (LBN), 79O, 76M, 80O;
236 J Marques (URU), 79M, 77O, 80O; N Vongjalorn (GUM), 78O, 79M, 79O;
237 E Van Dievoet (BEL), 74M, 78O, 85M; S Morgan (CHI), 78M, 77O, 82O; L Grinberg (BRA), 74O, 84M, 79O;
238 C Chen (SGP), 82M, 75O, 81O; I Ng (SGP), 79M, 81O, 78O; G Saki (TUN), 84O, 78M, 76O; I Rich (MAR), 84O, 77M, 77O;
239 J Ryan (WAL), 81M, 81O, 77O; N Polivchak (POL), 87M, 74O, 78O; I Leung (HKG), 78O, 78M, 83M;
240 D Ballesteros (PER), 82M, 76O, 82O; V Mendizabal Riepele (GUA), 77O, 78M, 85M;
241 D Zalewska (POL), 83M, 77O, 81O; A Raga (VEN), 73O, 83M, 85M;
242 D Bilgic (TUR), 80M, 82O, 80O; L de Araujo Caetano (BRA), 80O, 81M, 81O;
243 S Jarasunaite (LTU), 80O, 82M, 81O;
244 M Borisova (BUL), 82O, 81M, 81O;
245 R Kristinsdottir (ISL), 85O, 85M, 75O;
248 K Gustafssone (LAT), 89M, 82O, 77O;
251 R Peterson (GUM), 84O, 84M, 83O; E Rastvortseva (UKR), 81O, 89M, 81O; M Lacaz Martins (BRA), 88O, 84M, 79O;
252 I Simeonova (BUL), 83O, 83M, 86O;
253 B Corrie-Kuehn (DOM), 82O, 83M, 88O;
254 S Skokanska (BUL), 90O, 82M, 82O;
256 A Marksa (LAT), 86M, 83O, 87O;
257 K Ladhari (TUN), 86O, 86M, 85O;
258 B Arenas (GUA), 83O, 88M, 87M;
260 D Horokhovska (UKR), 88O, 86M, 86O;
264 H Mansouri (TUN), 84O, 95M, 85O;
280 S Assaf (LBN), 89O, 100M, 91O;
293 V Sapronova (UKR), 98O, 95M, 100O; L Assaf (LBN), 100O, 97M, 96O;
WD K Riihijarvi (FIN), 73O, 74M, WDM; R Tarpley (GUM), 87O, 91M, WDO.
Brian Keogh