Thornton, O'Briain, Moriarty and McNamara set for Dubai Duty Free Irish Open
Tulfarris Golf Resort's Simon Thornton birdied the first extra hole to win the €40,000 Dubai Duty Free Irish Open Qualifier at Rosapenna Hotel & Golf Resort and one of four places in this week's $7 million Rolex Series event at Ballyliffin.
The former European Tour winner (41) added a one-under 71 to his opening 68 to tie with Old Conna's Neil O'Briain (72) on five-under-par at the Sandy Hills Links before claiming the €6,000 top prize with a birdie at the first extra hole.
Glasson's Colm Moriarty booked his ticket to Ballyliffin when he shot 73 to finish third on four-under.
But a playoff was needed to decide the fourth spot, and it went to Monkstown Golf Club's Cian McNamara, who edged out Waterford's Kevin Phelan with a par at the second extra hole.
"It was hard to get close to pins with the firm conditions, but overall I played lovely," said Thornton, who birdied the par-five first in sudden-death to edge out O'Briain, who closed with a 72.
Phelan made eagle twos at the fifth and 12th as well as two birdies and four bogeys in closing 70 to finish on two-under with McNamara, who closed with a 73.
Both men missed from around six feet for birdie at the first extra hole before McNamara took the final spot with a par-four at the 18th.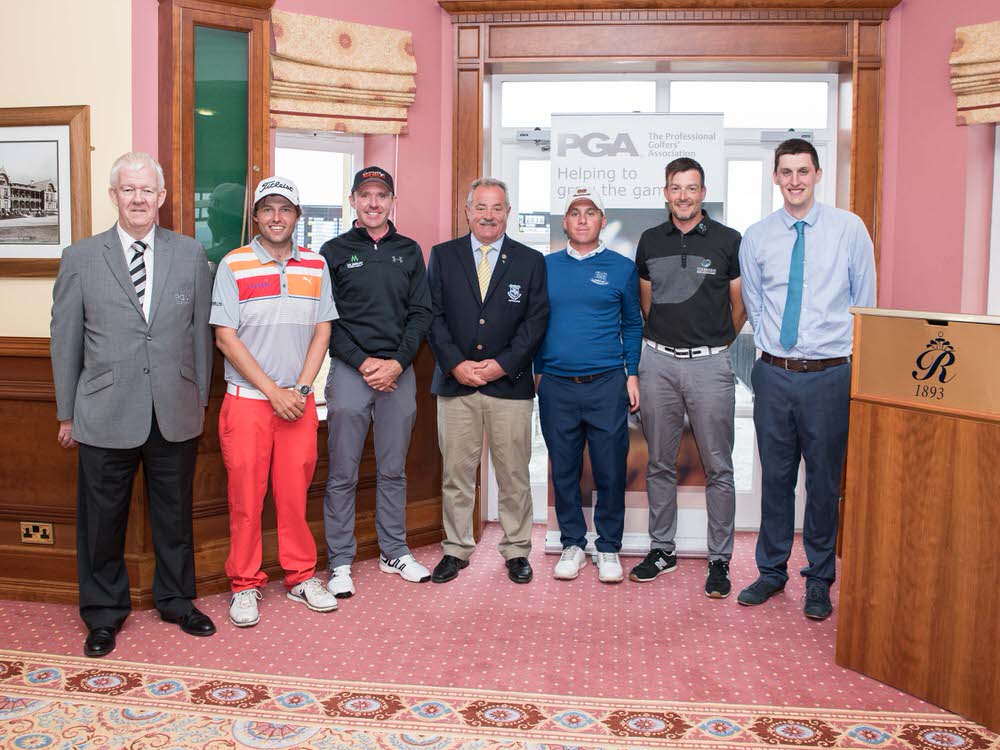 Phelan's approach flew the green into heavy rough and after he hit the hole from around 45 feet with his par effort, McNamara lagged a 25 footer stone dead to win his place.
The scorching weather that had marked out the practice day and the opening round on Saturday was replaced on Sunday by cloudy skies and a stronger breeze that tested the players.
"It was a battle but I'm used to that from practising at Newcastle," said Thornton.
"Overall, I played two good rounds. I played lovely, only one sloppy shot which cost me a bogey on the last but I committed to everything. I'm delighted obviously."
The fourth place at Ballyliffin went to Cian McNamara who hung on to beat PGA Europro Tour regular, Kevin Phelan on the second playoff hole after both finished the event on two under par.
"I haven't been in that situation for a long time so today I just said that I need to stick to my game plan and not look at what is going on around me," said McNamara.
"I stuck to my plan and I holed a crucial putt on the 17th in normal play. In the play-off, I hit the same clubs off the tees. I was unfortunate to three-putt the opening playoff hole and then I got lucky on the second playoff hole when Kevin just tugged his second shot into a bad lie.
"It is a huge boost, it's not something I thought I would ever get playing in again because I really haven't had a lot of time to put into my game but now I have qualified for another Irish Open with the wife caddying, it's been a great couple of days."
Both O'Briain and McNamara are among the 14-strong Irish challenge set for Final Qualifying for The Open at four UK venues tomorrow (Tues) but are now contemplating withdrawing to get ready for Ballyliffin.
Dubai Duty Free Irish Open Qualifier hosted by The Rory Foundation, Rosapenna Golf Hotel, Sandy Hills (Par 72)
139 Simon Thornton (Tulfarris) 68 71 (€6,000, Won 1st place with a birdie at first extra hole), Neil O'Briain (Old Conna) 67 72 (€4,000)
140 Colm Moriarty (Glasson) 67 73 (€3,200)
142 Cian McNamara (Monkstown) 69 73 €2,200 (Won 4th spot at 2nd extra hole), Kevin Phelan (Unatt.) 72 70 (€1,660)
143 Stuart Grehan (Team Ireland) 70 73, David Higgins (Waterville) 69 74
144 Mark Staunton (Delgany) 70 74, Robert Giles (Greenore) 70 74
145 Mark O'Sullivan(Piltown DR) 74 71, Brian Casey (Team Ireland) 74 71, Jake Whelan (Newlands AM), Rory McNamara (Unatt.) 70 75
146 Brian McElhinney (North West) 71 75
147 Michael McGeady (Evolve Golf Coaching) 77 70, Jack Howard (Unatt.) 73 74, Conor O'Rourke 72 75 (Team Ireland)
148 Reece Black (Hilton Templepatrick, AM) 78 70, Glen Robinson (Craddockstown) 77 71, Joe Dillon (Headfort) 75 73
149 Andy Hogan (Edmondstown) 76 73
150 Steven Quinlan (Halpenny Golf) 78 72, Richard Weldon (Black Bush) 76 74, David Barry (Unatt.) 75 75
151 Conor Coyne (Lisheen Springs) 76 75, Paul O'Neill (Shannon) 76 75, David Carey (Unattt.) 76 75, Padraig Dooley (Drive Golf Performance) 75 76, Alec Myles (Bray) 74 77, Niall Kearney (Royal Dublin) 74 77, James Sugrue (Mallow, AM) 71 80
152 Andrew Peoples (Darren Clarke Golf Academy) 77 75, Michael O'Shea (Rathsallagh) 76 76, James Quinlivan (Mullingar) 76 76, Richard Kilpatrick (Banbridge) 75 77, Seamus Duffy (Seamus Duffy Golf Academy) 74 78, John-Ross Galbraith (Team Ireland) 73 79, Dara Lernihan (Bray) 73 79
153 Tim Rice (Limerick) 81 72, Peter Martin (Colin Park Academy) 80 73, Jimmy Bolger (Kilkenny) 78 75, Adam Dunmore (Bundoran) 75 78, Alan Dunbar (Elm Park) 75 78
154 Damian Mooney (Damian Mooney Golf) 82 72, Gary Madden (Glenlo Abbey) 81 73, Shane Jenkinson (St Margaret's) 78 76, Stephen McCarthy (Black Bush) 77 77, Ciaran Molloy (Ardee) 77 77, Keith Shannon (Cloverhill) 76 78, Patrick Small (Galway) 75 79
155 Gary Wardlow (Spa) 81 74, Rob Brazill (Naas, AM) 80 75, Enda Maguire (Co Louth) 80 75, Mark O'Mahony (Titleist National Fitting Centre) 79 76 , Thomas Minshull (Royal Portrush) 79 76, Eoin O'Connor (Kilkenny) 78 77, Nicholas Grant (Blackwood Golf Centre) 77 78, Noel Murray 76 79 (Unatt), Leslie Walker (Dundalk) 76 79, Brian O'Reilly (Glenlo Abbey) 74 81, Seamus Clinton (Gormanstown DR) 74 81
156 Mark Whelan (Castlewarden) 79 77, Harry Coyne (Carton House) 78 78
157 Jerry Scullion (Kilkeel) 80 77, Noel Callan (Faughan Valley) 79 78
158 David Allen (Newtownstewart) 82 76, Patrick Geraghty (Druids Glen) 82 76, Daniel Sugrue (Dooks) 82 76, Sebastien McShane (Carton House) 78 80, Michael McDermott (Grange) 75 83
159 Raymond Ryan (Thurles) 81 78, Mark Murphy (Mount Wolseley) 81 78, Eric Byrne (St Anne's) 79 80, Michael Mulryan (Cregboy GA) 78 81
160 Ted Higgins (TedHiggins.com) 81 79, Brian Doheny (Callan) 81 79, Donal Gleeson (Old Conna) 76 84, Brendan McCarroll (West Cliffs) 75 85
161 Brian Kerley (Ardee) 87 74, Neil Graham (Portstewart) 83 78, Daniel Brennan (Unatt.) 82 79, Peter O'Hagan (Luttrellstown Castle) 80 81, Colm Crowley (Unatt.) 79 82
162 Niall McGlynn (GUI National Academy) 76 86
163 Josh Adams (Stackstown) 82 81
164 Matthew Dunmore (Bundoran) 86 78, Shaun Doherty (Ballyliffin) 79 85
165 Brendan Walton (Roganstown) 85 80, Matthew Cochrane (Edenmore) 84 81, Andrew Owens (Ballyclare) 82 83
166 Karl Goodwin (Beaverstown) 87 79
167 Alan Staunton (Hollywood Lakes) 84 83, Barry Davis (Greystones) 81 86
168 Ronan Collins (Fota Island) 89 79, Jamie Fletcher (Warrenpoint, AM) 88 80, Roy O'Neill (Galway Bay) 85 83, David Hughes (Masserreene) 80 88, Daniel O'Connor (Athlone) 80 88
170 Michael Alexander (Holywood) 79 91
171 Shane Ryan (Thurles) 86 85
Brian Keogh