Wide open at Royal Dublin
Robbie Cannon (Ballbriggan) driving at the 14th in the second round of the 2013 Irish Amateur Open Championship at The Royal Dublin Golf Club (Saturday 11/06/2013). Picture by Pat CashmanSeven shots cover 43 players for today's final 36 hole in the Irish Amateur Open at Royal Dublin. And given the unpredictablility of the Irish weather following the wind, rain, sun and hailstones that hit the field on Saturday, picking a winner looks all but impossible.
Rathsallagh's Jack Hume believes that two level par rounds might be enough after the 19-year old battled from four over for his round with eight holes to play to pick up two strokes into the teeth of a cold westerly wind that gusted over 30 mph at times to add a 74 to his opening 71 and finish in a four-way tie for the 36-hole lead on one-over

"I'm not putting any pressure on myself," said Hume, who put himself in the Walker Cup frame by finishing runner up after a play-off in last week's Lytham Trophy. "But I know that a good performance tomorrow will not do my chances any harm."
Hume heads the 43 survivors for today's final two rounds alongside Castlerock's Aaron Kearney (75), Balbriggan's Robbie Cannon (75) and Scotland's Conor O'Neil (73) on 145.
At the age of 34, Cannon might be the oldest of the front runners but the former South of Ireland champion is also the fittest and most experienced and has stuck to his daily game plan of wisely choosing which holes to attack on a course that offered few chances in a stiff westly crosswind.
Cannon's attitude has also been key and his decision to "play with a smile on my face" has worked well so far.
That's a strategy that's also helped 26-year old Castlerock talent Kearney, who believes his laid back attitude could be the key to clinching the biggest win of his career.

A former international, he came close to glory in the Irish Close at Shannon two years ago when he finished second, just two shots behind future Walker Cup star Paul Cutler.

After a birdie at the last gave him a 74 and a share of the lead, he believes he's got nothing to lose.

"I used to put too much pressure on myself to do well but I just came here hoping to get four rounds and it's worked out great so far," Kearney said. "I'll just got out and play. I've hyped myself up so many times over the years and it just doesn't work."

O'Neil is just 21 but he's alerady and one of the strongest players on the Scottish circuit, finishing fifth in the Order of Merit last year behind Scott Borrowman, who had the only sub par round on day two with a 71.
Borrowman is just four strokes behind in an 11-man tie for 11th with the likes of the rapidly improving Geoff Lenehan, Ballymena's Dermot McElroy, title holder Gavin Moynihan, Harry Diamond and the youngest player in the field, 15-year old Kevin Le Blanc from the Island.
Yet there are others closer to the lead - England's Jamie Rutherford is the closest on two over after his 71-75 while on 147, Faithlegg's Robin Dawson, England's Matt Kippen and Headfort's Rory McNamara are all dangerous.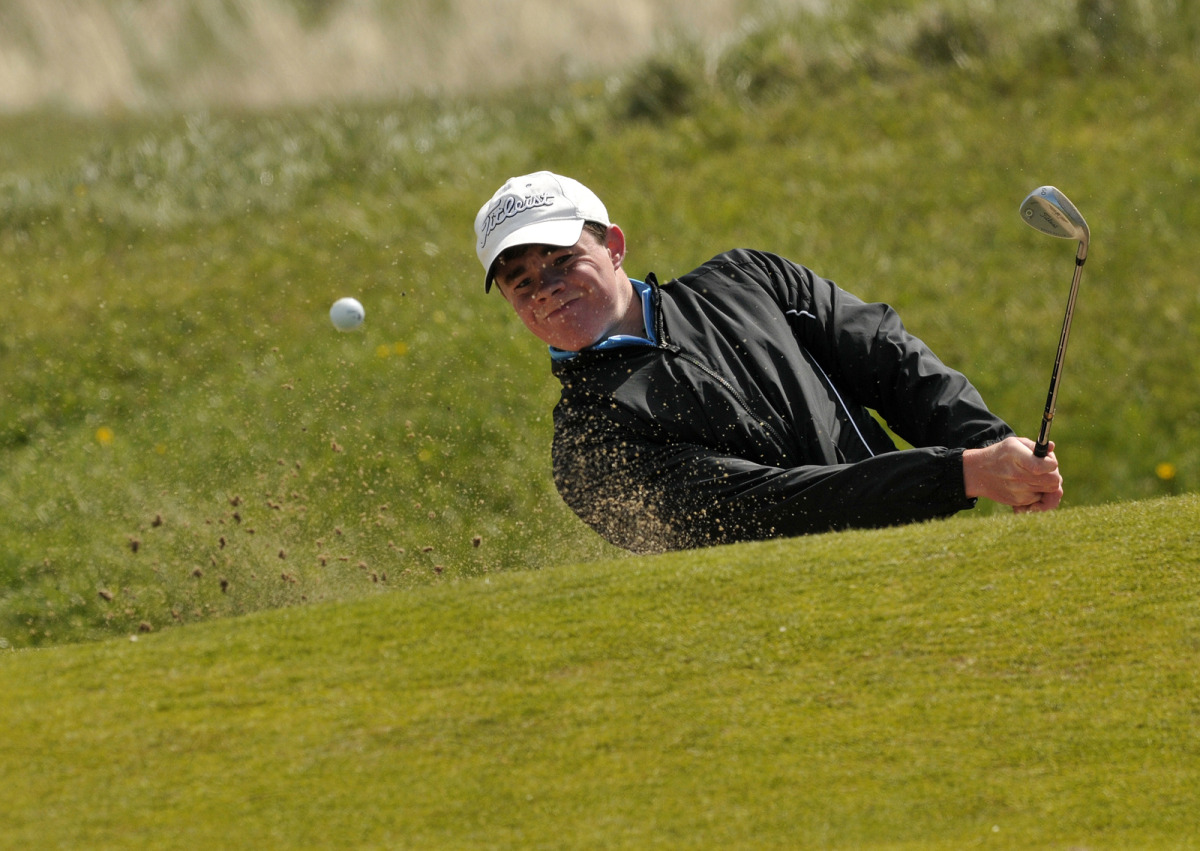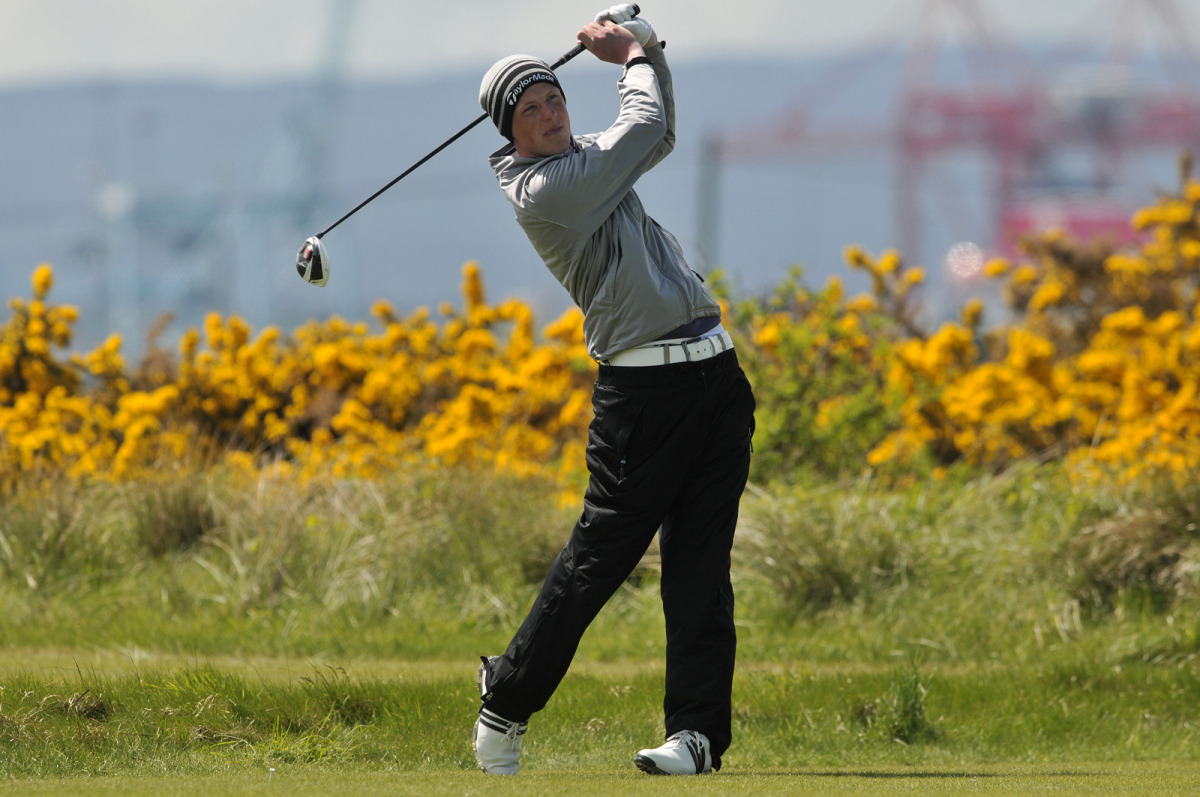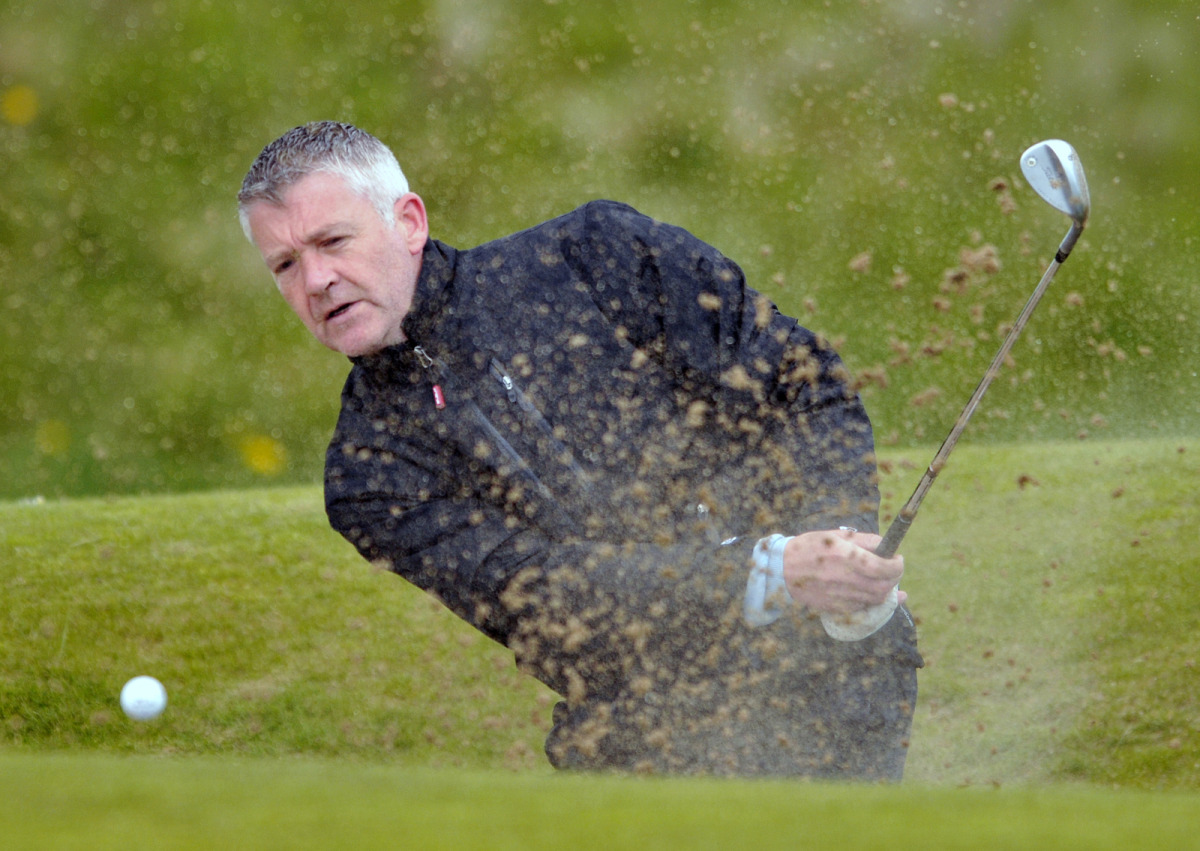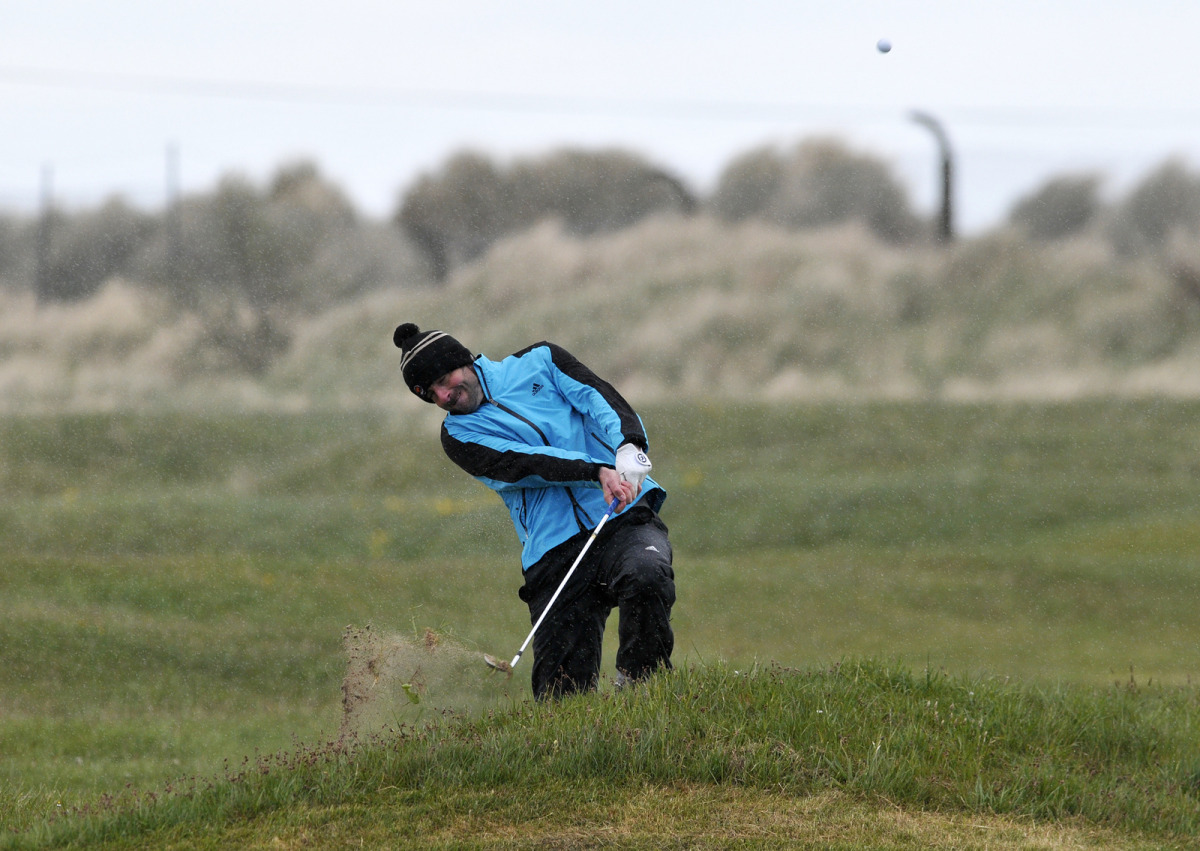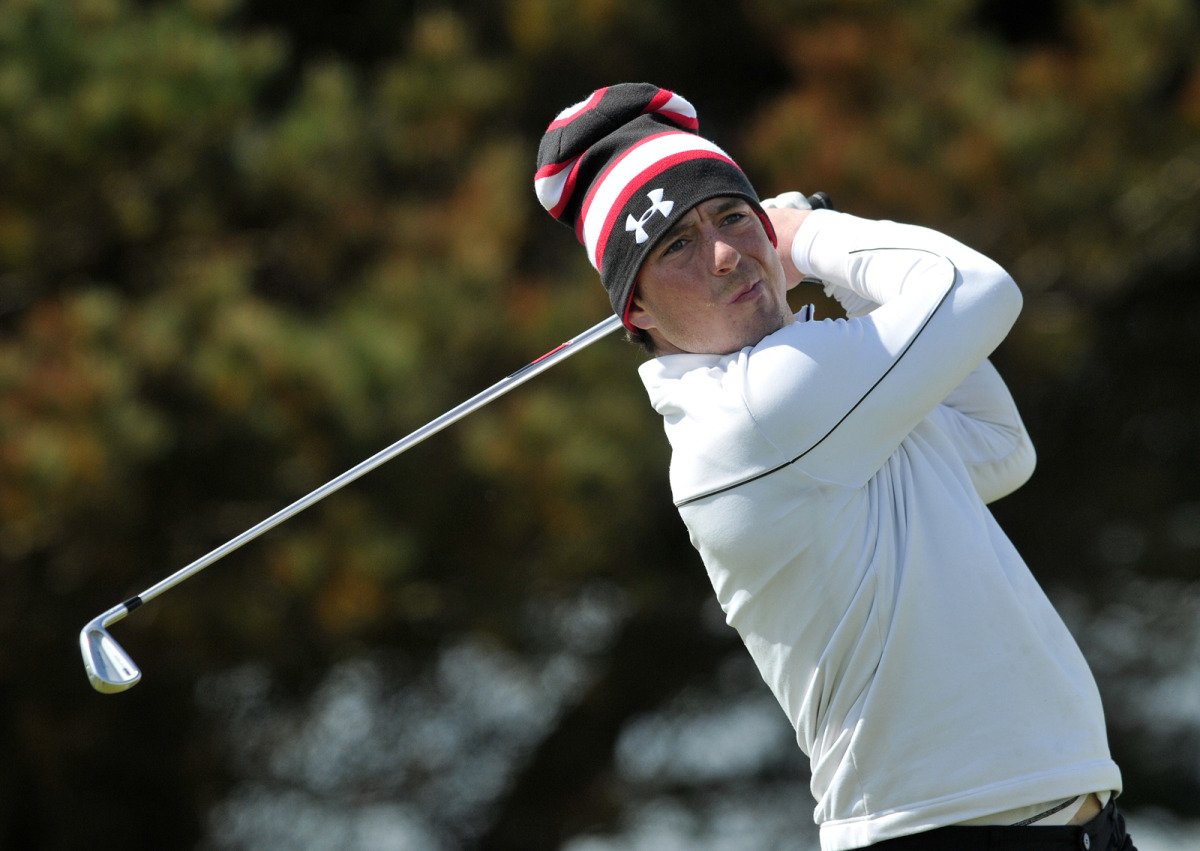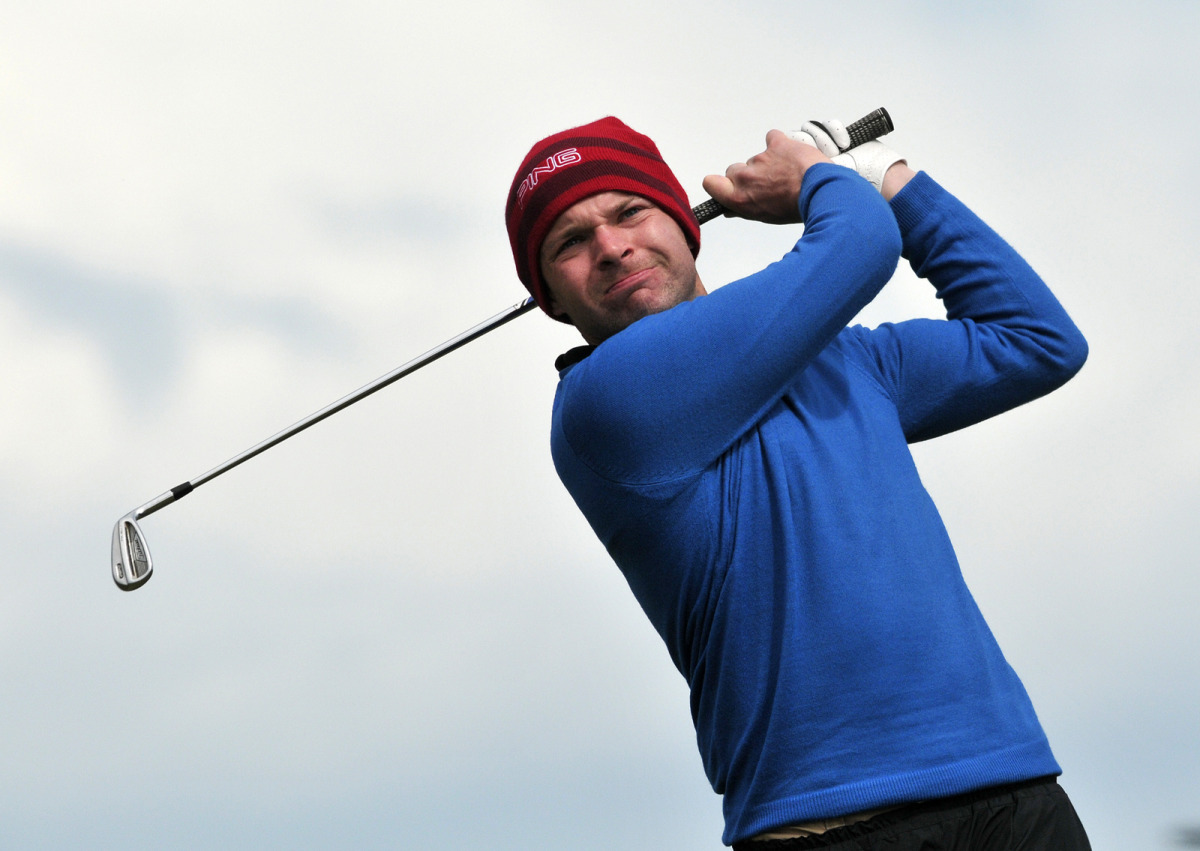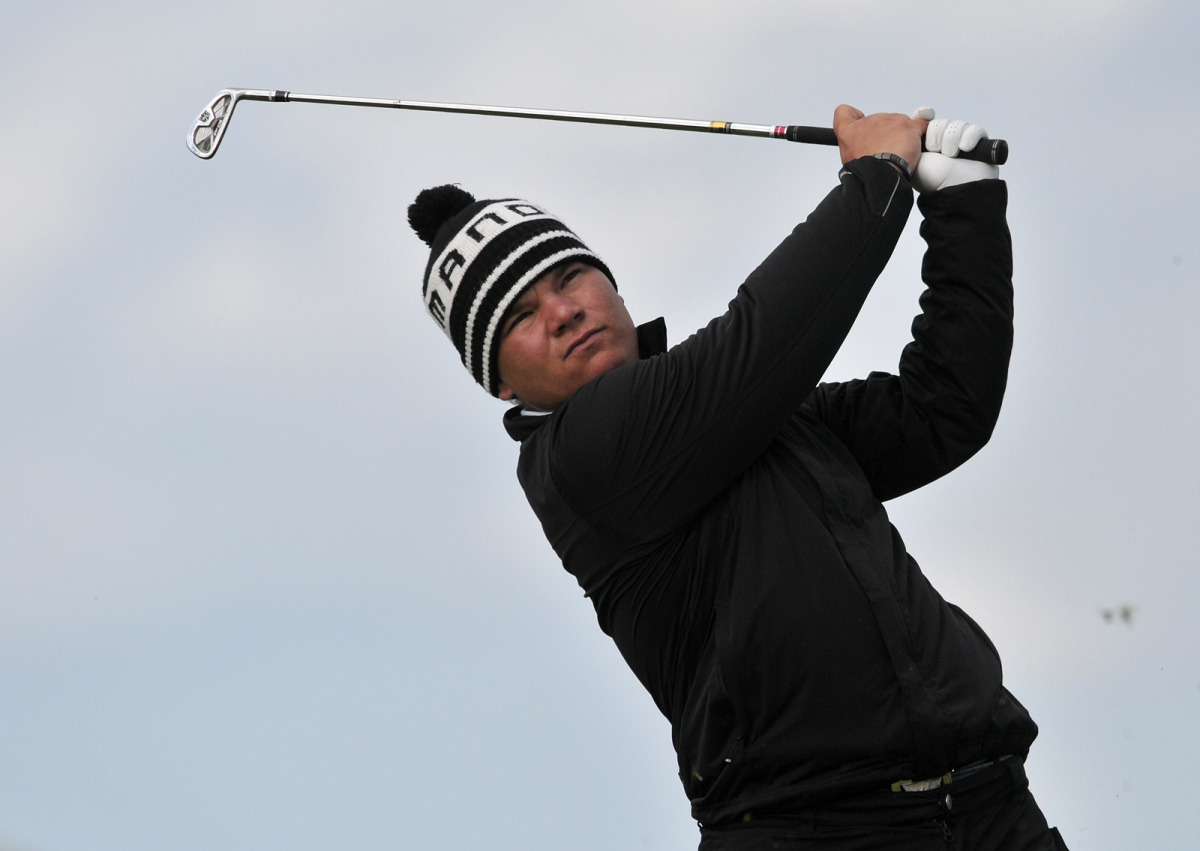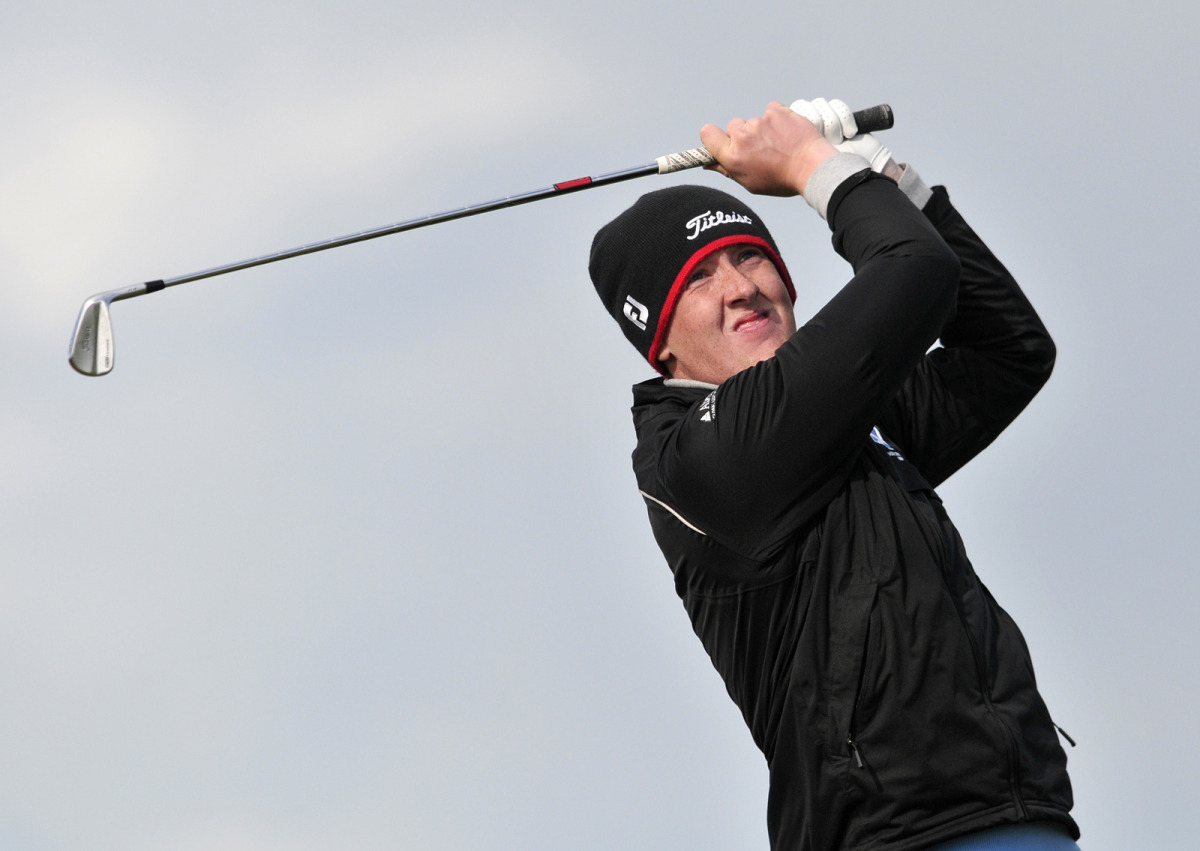 In fact, McNamara is more dangerous than most given his ambition and his status as the reigning North and West of Ireland champion.
"I am not turning up at these events to see how I get on," said McNamara after holing a 20 footer for par and a 74 at the last despite hitting his tee shot into the drain. "I am coming to win and it's all to play for tomorrow.
"A win here might jump me onto the Walker Cup panel but I probably need to win something abroad. I know the selectors are probaby looking at selecting no more than two Irish players so I have to just go out and win a big event and see what happens."
The weather is likely to play a major role on the final day as Diamond, last year's West of Ireland champion, found out on Saturday. Three under after six holes. he bogeyed the ninth and then came home in 40.
Yet he's still there, just four behind alongside the ultra-talented plus five international Richie O'Donovan from Lucan (76 73), Le Blanc (73 76), up and coming Ardglass star Cormac Sharvin (72 77), former West of Ireland finalist Stephen Healy, the vastly experienced Pat Murray and classy Portmarnock swinger James Fox.
Live scoring is here
Royal Dublin Golf Club (Par 72) May 10-12
Sunday 12 May
Draw for Rounds 3 & 4
06:55/12:10 N Grant (Knock), J McDonald (Sco)
07:05/12:20 R Bridges (Stackstown), S Moran (Carton House)
07:15/12:30 R Connolly (Rathsallagh), M McAlpin (R'yal P'rush), W Jones (Wal)
07:25/12:40 T Bakker (Fin), J Greene (Carlow), G McGrane (Ryl Dub)
07:35/12:50 R Arnorsson (Ice), J Shufflebotham (Wal), T McLarnon (M'reene)
07:45/13:00 E Scott (Sco), N Kimsey (Eng), C Geraghty (L&B)
07:55/13:10 S Flanagan (Co. Sligo), D O'Donovan (Muskerry), G Robertson (Sco)
08:05/13:20 P McBride (The Island), S O'Hara (Co. Sligo), S Binning (Sco)
08:15/13:30 J Fox (Portmarnock), P Murray (Limerick), S Healy (Claremorris)
08:25/13:40 C Sharvin (Ardglass), K Le Blanc (The Island), R O'Donovan (Lucan)
08:35/13:50 H Diamond (Belvoir Park), G Moynihan (The Island), D McElroy (Ballymena)
08:45/14:00 G Lenehan (Portmarnock), S Borrowman (Sco), C Campbell (W'point)
08:55/14:10 M Morrissey (Mount Wolseley), M Kippen (Eng), R Dawson (Faithlegg)
09:05/14:20 R McNamara (Headfort), J Rutherford (Eng), R Cannon (Balbriggan)
09:15/14:30 A Kearney (Castlerock), Jack Hume (Rathsallagh), C O'Neil (Sco)
Saturday 11 May
After 36 Holes (Rd 2 6,860 yards):
145 C O'Neil (Scotland) 72 73, J Hume (Rathsallagh) 71 74, A Kearney (Castlerock) 70 75, R Cannon (Balbriggan) 70 75
146 J Rutherford (England) 71 75
147 R McNamara (Headfort) 73 74, R Dawson (Faithlegg) 72 75, M Kippen (England) 72 75
148 M Morrissey (Mount Wolseley) 75 73, C Campbell (Warrenpoint) 72 76
149 S Borrowman (Scotland) 78 71, G Lenehan (Portmarnock) 76 73, D McElroy (Ballymena) 76 73, G Moynihan (The Island) 76 73, H Diamond (Belvoir Park) 76 73, R O'Donovan (Lucan) 76 73, K Le Blanc (The Island) 73 76, C Sharvin (Ardglass) 72 77, S Healy (Claremorris) 71 78, P Murray (Limerick) 71 78, J Fox (Portmarnock) 71 78
150 S Binning (Scotland) 74 76, S O'Hara (Co. Sligo) 74 76, P McBride (The Island) 74 76, G Robertson (Scotland) 69 81
151 D O'Donovan (Muskerry) 79 72, S Flanagan (Co. Sligo) 79 72, C Geraghty (Laytown & Bettystown) 76 75, N Kimsey (England) 76 75, E Scott (Scotland) 75 76, T McLarnon (Massereene) 74 77
152 J Shufflebotham (Wales) 77 75, R Arnorsson (Iceland) 76 76, G McGrane (The Royal Dublin) 76 76, J Greene (Carlow) 76 76, T Bakker (Finland) 75 77, W Jones (Wales) 75 77, M McAlpin (Royal Portrush) 75 77, R Connolly (Rathsallagh) 75 77, S Moran (Carton House) 73 79, R Bridges (Stackstown) 73 79, J McDonald (Scotland) 72 80, N Grant (Knock) 71 81
Non-Qualifiers
153 C McKenna (Mallow) 79 74, S Ward (Co. Louth) 77 76, M Shanahan (Castlemartyr) 76 77, E Smith (Ardee) 74 79, G Bohill (Co. Louth) 71 82
154 D Barry (Mahon) 80 74, J Lyons (Galway) 80 74, C Fairweather (Knock) 76 78, E O'Keeffe (Corrstown) 75 79, A Hogan (Newlands) 74 80
155 M Killen (England) 81 74, R Whitson (Mourne) 80 75, F McKenna (Scotland) 80 75, E Arthurs (Forrest Little) 79 76, A Purdy (Ballyclare) 79 76, B Best (Rathmore) 78 77, G Stevenson (Scotland) 77 78, A Dunton (Scotland) 74 81, S Grehan (Tullamore) 74 81
156 G Collins (Rosslare) 81 75, J Yates (Naas) 80 76, A Culverwell (Scotland) 79 77, L Ruuska (Finland) 78 78, P Kelly (England) 78 78, C Doran (Banbridge) 78 78, M Clark (Scotland) 77 79, P Coughlan (Moate) 77 79, P Spraggs (England) 77 79, N Henderson (Scotland) 75 81, G McDermott (Co. Sligo) 74 82, K Holmes (England) 74 82, B Casey (Headfort) 74 82
157 R Bell (Scotland) 80 77, S Ryan (The Royal Dublin) 79 78, D Holland (Castle) 79 78, K Lynch (Skibbereen/NUIM) 78 79, S O'Connor (Luttrellstown Castle) 77 80, J Hendrick (Scotland) 77 80, N Raymond (England) 73 84
158 G Costa (Portugal) 83 75, J Sugrue (Mallow) 80 78, K McCarthy (Kinsale) 79 79, S McGlynn (Carton House) 79 79, G Pinto (Portugal) 79 79, J Savage (Scotland) 75 83
159 I Lynch (Rosslare) 84 75, J Carlota (Portugal) 83 76, S Walsh (Portmarnock) 81 78, S Davidson (Italy) 80 79, R Lester (Hermitage) 80 79, C Drumm (Rosslare) 80 79, B Daly (Edmondstown) 78 81, M Sinclair (Knock) 78 81, G Lappin (Belvoir Park) 77 82, J White (Scotland) 77 82, M Gaspar (Portugal) 76 83
160 S Bryan (Delgany) 82 78, A Verschaeren (Luxembourg) 81 79, J Ross (Scotland) 81 79
161 M Pennycott (Scotland) 83 78, M Kane (Whitehead) 82 79, W Hanna (Kilkeel) 81 80, D O'Neill (Carton House) 80 81, J Kukkonen (Finland) 79 82, R Gardarsson (Iceland) 78 83
162 S Hogan (Nenagh) 82 80, I Brennan (Greenore) 82 80, H Coyne (Carton House) 81 81
163 S Carter (Stackstown/NUIM) 85 78, L McMillan (Carton House) 83 80, L Sandvoll (Norway) 79 84
165 J Arnoy (Norway) 85 80, N Foley (The Island) 83 82
167 T Toivonen (Finland) 82 85, G McKenna (Fortwilliam) 80 87
NR G Lawlor (Newbridge) 77 NR
CSS Rd 1 – 75 Rd 2 – 77